Gallery of Ross Taylor / Glenn Gilbert National Leadership Awardees
Congratulations to Kay Gilliland, the 2013 Ross Taylor/Glenn Gilbert National Leadership Awardee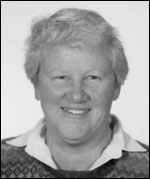 Kay Gilliland was honored at the NCSM Annual Meeting in Denver, CO, April 17, 2013 at the final conference luncheon.
The NCSM Ross Taylor / Glenn Gilbert National Leadership Award bears the name of two leaders in NCSM's history.
Glenn Gilbert is so honored because of his outstanding contribution to mathematics education, especially because he gave so generously of his time and energy. Glenn Gilbert served as a teacher, mathematics supervisor, NCSM Treasurer, and NCSM Board Member. Shirley Frye, NCSM President (1981-1983) described him as exemplifying "the respected mathematics educator who loves his/her work and students. Glenn's positive attitude supported his beliefs that students can succeed and that teaching is a reward."
Ross Taylor, described by his peers as a "Leader of Leaders" is so honored because of the seminal role he played in the founding of NCSM, the instant and positive impact he had on all who knew him, and his courageous support of equity. Dorothy Strong, fellow founding member of NCSM and NCSM Past President (1977-1979), said, "Ross always faced challenges with action." Ross Taylor constantly encouraged, collaborated, and supported those who addressed inequities in the mathematics education for underrepresented groups and placed issues of equity and equitable practices at the front of the NCSM agenda.
Each year, NCSM members take time out to nominate and honor a leader in mathematics who has made the same kind of unique and dedicated contribution to mathematics education as Glenn Gilbert and Ross Taylor.

If you are a current NCSM member, consider <!a href="awards1.html">nominating a worthy candidate<!/a>.
Kay Gilliland Video
Response from Kay Gilliland
I am humbled and completely surprised by this award. The Ross Taylor/Glenn Gilbert awardees of the past are giants in the mathematics education field and their accomplishments are known far and wide. I never thought of myself as eligible and I am grateful to be here today.
I did not get to meet Glenn Gilbert, NCSM Treasurer and Board Member from 1976 until his untimely death in 1981. It is especially fitting that we honor him now because Glenn Gilbert was a mathematics teacher and supervisor from the very state where we are meeting, from Boulder, Colorado.
I knew Bennett "Ross" Taylor very well. A fine mathematician, he was dedicated to equity in mathematics education and it was natural for him to join forces with the EQUALS project where I worked for twenty years. Our first EQUALS publication contained a copy of the 1976 NCSM Position Paper, New Basic Skills. Ross Taylor was a major voice in this influential paper redefining basic skills to include problem solving and the use of calculators.
Ross led the first planning and organizational meeting of NCSM in Minneapolis in 1969 and continued over the years to guide the development of this increasingly powerful organization.
My deep interest in equity-fairness, opportunity, openness-drew me to NCSM where, every day, members were and are making a difference in the lives of children. You, the members of NCSM, encourage teachers to put forth the kind of sustained effort that makes improved student achievement possible.
You are an increasingly diverse community of dedicated professional mathematics educators committed to improved learning for every child, and you open your hearts to fledgling supervisors with generous offers of materials, advice and encouragement.
You are the ones who are doing it, and I wanted to be a part of this dedicated community of learners: you, the members of NCSM.
Your recognition with this Ross Taylor/Glenn Gilbert award goes beyond my wildest dreams.
I am grateful to everyone who influenced my life:
my family, my schoolmates and teachers, my college instructors, my colleagues and friends.
I thank especially my mother, my aunt and my wife of 31 years, Rhea Babbitt. When you visit us in Oakland, California, you will see there is a plaque at our church given by the 2004 NCSM Board to commemorate our church ceremony. We are still married in California if not yet recognized by the federal government.
"...standing on the shoulders of giants." In 1990 when Lynn Steen borrowed John of Salisbury' phrase (later Isaac Newton's phrase) "...standing on the shoulders of giants," he spoke for me and I believe, for all of us.
We all stand on the shoulders of giants. I'd like to share with you a list of the many, many giants in my life.
Without them I would not be here.
Thank you all. I love you!!
Previous Glenn Gilbert National Leadership Award Recipients

2012
Carol Edwards
Video


2011
Carole Greenes


2010
Mark Driscoll


2009
Solomon Garfunkel


2008
James Rubillo


2007
Glenda Lappan


2006
L. Carey Bolster


2005
Charleen Mitchell DeRidder


2004
Irvin Vance


2003
Mary Laycock


2002
Miriam Leiva



2001
Margaret "Peg" Kenney


2000
Francis "Skip" Fennell


1999
F. Joe Crosswhite


1998
Robert B. Davis


1997
Franklin Demana and Bert Waits


1996
Marilyn Burns


1995
James D. Gates


1994
Zalman P. Usiskin


1993
Dale Seymour


1992
Iris M. Carl


1991
Dorothy S. Strong


1990
Stanley J. Bezuszka


1989
David R. Johnson


1988
Tom Rowan


1987
Al Shulte


1986
Shirley Frye


1985
Ross Taylor


1984
Alexander Tobin


1983
John Del Grande