Why Tweet?
Twitter is a service for colleagues and friends to communicate and stay connected through the exchange of quick, frequent answers to one simple question: What are you doing?
Keep up-to-date on what is going on with NCSM, connect with other professionals who share your mathematics leadership interests, share links to resources and find out what your peers are doing.
Join The Conversation
At NCSM, we now have web tools that allow mathematics education leaders to connect, share and collaborate with one another. They are part of the internet's social networking landscape, and provide a means for people to build and maintain communities of practice.

To harness the power of these collaborative opportunities and help connect mathematics education leaders with rich conversations, NCSM subscribed to several of these social networking tools.

So, join the conversation and find out what mathematics education leaders are talking about.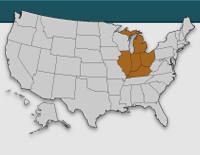 ---
Illinois, Indiana, Kentucky, Michigan, Ohio
---