Conference Coordinator
(2017-2019)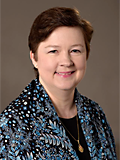 Sara Moore
NCSM provides a place for leaders at every level to talk about the problems and pleasures of their work. Where are we finding success? What are our challenges? What solutions are we finding? The more we work as a community to share our experiences, the stronger we are. Every learner should have positive experiences with mathematics throughout school. Our responsibility as leaders is to support this success. NCSM's conference is one of the places where these conversations happen face-to-face. As Conference Coordinator, I am pleased to support this important work.
I joined NCSM as my work transitioned from classroom teaching to coaching & mathematics teacher education. NCSM helps me connect with others working to improve mathematics teaching and learning through its publications and conference. As we work towards a common vision of high-quality mathematics education, NCSM provides an important space for thinking and sharing our work.
Events Calendar for Conference Coordinator
April 23-25, 2018
50th NCSM Annual Conference
Washington, DC
"Leading Mathematics into the Future: Inspiring Monumental Change"