First Vice President
(2017-2018)
---
Address
Greenbriar West Elementary School
13300 Poplar Tree Road
Fairfax, VA 22033
Phone
(703) 633-6700
Email

---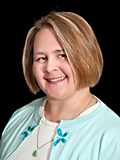 Kimberly Morrow-Leong
Math Resource Teacher and Doctoral Candidate
Early in my teaching career I recognized that the scores marked at the top of a test were far less interesting than the work students actually did in response to the prompts. An evidence-centered approach to assessment recognizes the value of student work, which in turns elevates student thinking in instructional planning and lesson creation process. This emphasis in turn can influence district-level initiatives, encouraging the use of student work artifacts in evidence-based instruction and assessment. NCSM leads this movement with a strong formative assessment initiative and an unwavering focus on equity for all students. When all student thinking counts, everyone benefits. I am committed to maintaining NCSM's focus on the importance of the thinking of all learners.
The mathematics education community is at a critical crossroads. The Common Core standards offer more than a set of standards: they offer the entire community a common point of conversation, a launch for deeper exploration of student learning and the teaching practices that support it. NCSM and its members are in a unique position to communicate the latest research findings to districts across the nation.
A colleague and I had returned from a bustling and exciting math conference week in April and we were comparing notes. I noticed that she had a program book that I didn't have and then she told me about the NCSM sessions she had attended and the mission of the organization. I borrowed her program book and sent in my membership form the next day! The next year I planned my April week carefully and was happy to volunteer my time to support NCSM on site.
I began my career as a 7th grade ESL mathematics teacher because I had just completed a degree in teaching English as a second language. I was fortunate enough to be hired by a school exploring what was then referred to as a "reform curriculum" and my view on mathematics would never be the same! Although relocation took me out of that school, the new approach to teaching mathematics has never left me. I ended up teaching 7th grade for another 9 years before moving into the role of mathematics resource teacher (instructional coach) and longtime graduate student at George Mason University. As I complete my dissertation I aspire to uncover more about the mathematics instructional coach as a professional role. Another research interest is how educators interpret student thinking, both in the classroom as well as through written work.
Being a member of NCSM is critically important to me, and serving on the Board is an honor and a responsibility that I take seriously. Over time I have supported the organization by promoting NCSM at NCTM, volunteering on site when possible, and internalizing the content of white papers, the PRIME Leadership Framework, and more recently webinars. I look forward to serving NCSM through service to those professionals who are dedicated to supporting productive change in mathematics education.
Events Calendar for Second Vice President
April 23-25, 2018
50th NCSM Annual Conference
Washington, DC
"Leading Mathematics into the Future: Inspiring Monumental Change"