Immediate Past President
(2017-2018)
---
Address
Baltimore County Public Schools
Jefferson Building, 3rd Floor
105 W. Chesapeake Avenue
Towson, MD 21204
Phone
(410) 887-4056
Email

---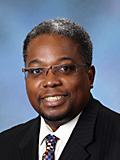 John W. Staley, Ph. D.
Director, PreK-12 Mathematics
If you are reading this message then you are a leader in the mathematics education community. I use the word "leader" because it takes on all shapes and may not always be identified by a formal title. You may also be a novice at leading or you may be an experienced leader. Surviving the journey, means that you and those you lead must thrive at impacting and influencing the teaching and learning of mathematics for each and every student. So it is important that you identify "Who is your Why?" That child who means so much to you that you would move heaven and earth to insure that they have consistent and cohesive learning experiences that make the mathematics meaningful, relevant, and accessible. Focusing on your Why as you engage in the work will allow you to humanize the conversations as you embrace your responsibilities in regards to Leadership of Self, Leadership of Others, and Leadership in the Extended Community. Your leadership journey has begun - lead with confidence, boldness, and courage.
Years ago I read a book called Balcony People, the just of the book is that there are people in our lives cheering or encouraging us on from the "balcony." As I reflect on my career I am reminded of moments when I am sure one of my balcony people were there pushing me to move forward and at times maybe even "carrying part of the load." From my first NCTM conference in Orlando, Florida in 1988, to my first NCSM conference in San Diego, California in 2005, and the most recent NCSM conference in San Antonio, Texas in 2017, there have been many individuals who have directly or more often indirectly provided guidance, support, and words of wisdom through gestures of kindness, emails, cards or letters, phone calls, and sometimes a hug or handshake. They have helped me become the person I am today - husband, father, teacher, learner, follower, leader, mentor, mentee, and friend. I have been blessed that our paths have crossed and each Balcony Person has played a role in helping me become who I am today.
Someone once asked me, "Who tagged you?" "Who got you started on your mathematics education leadership journey?" This is a hard question to answer as there have been many individuals as I mentioned before. But the one thing I do know is that the love for mathematics started in Mrs. McGarvey's first grade class many years ago and there has been a host of Balcony People who have walked with me on my journey.