Region S2 Report - Summer 2015
News from the Southern 2 Region
Linda K. Griffith, Southern 2 Regional Director
Summer 2015
Did you miss the NCSM Conference in Boston in April?
You can click here to access the speaker handouts and powerpoints.
Thanks to Dan Meyer, you can click here to access a directory of handouts from the NCTM conference. Hurry as access is only available for a short time.
Summer Leadership Academy: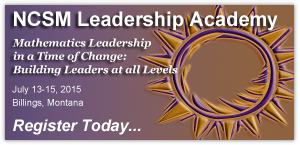 Early registration deadline is June 22, 2015.
Recently released White Paper - Iris Project
Mathematics Education in the Digital Age is presented as the first resource developed as part of NCSM's newest initiative: Iris project
Upcoming Conferences in our Region:
For more information, go to the Southern 2 Region Calendar.
June 12, 2015 - OCTM Summer Conference, Oklahoma City, OK
June 23, 2015 - TASM Summer Business Meeting, Houston, TX
June 24-26, 2015 - CAMT, Houston, TX
October 2-3, 2015 - MCTM Fall Conference, Oxford, MS
October 19-20, 2015 - TASM Fall Meeting, Austin, TX
October 22, 2015 - ACTM Fall Forum, Birmingham, AL
November 4, 2015 - AAML Leaders Meeting, Little Rock, AR
November 5-6, 2015 - ACC, Little Rock, AR
November 9-11, 2015 - LATM/LSTA Joint Conference, Baton Rouge, LA
November 17, 2015 - NCSM Fall Leadership Seminar, Nashville, TN
November 18-20, 2015 - NCTM Regional, Nashville, TN

The 2014-2015 school year is coming to a close and we are gearing up for summer activities. May you enjoy the process and find time this summer to recharge your batteries.