Region C2 Report - Winter 2015/2016
News from Central 2 Region
Comfort Akwaji-Anderson, Central 2 Regional Director
Winter 2015/2016
Welcome back from a well-deserved time with family and friends! We are at a time of the year that brings additional challenges to our mathematics leadership work through winter weather interruptions that result in schedules changes and routines. If you are like me, times like these make us better appreciate the mild fall weather of the recent past.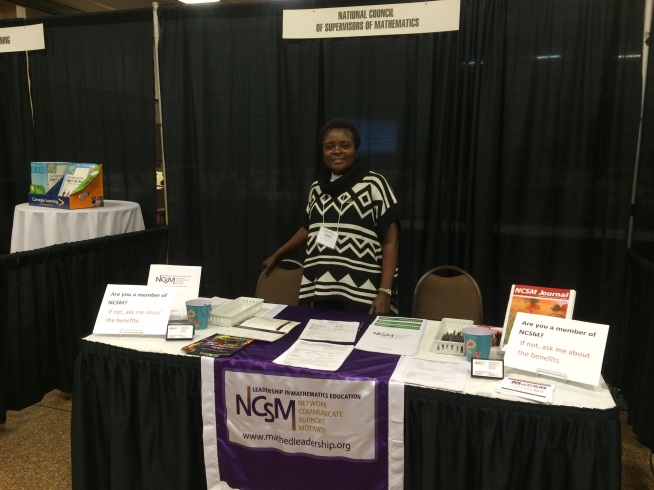 Hopefully, many of you were able to gain some new strategies or insights from the variety of state and regional conference offerings open to NCSM members this fall. I met with members across our region about NCSM resources, spoke with/presented to State Math Leaders and State Math Leadership Groups about the work of NCSM, affiliate membership and its benefits; as well as ways we can continue to make the NCSM presence more visible in our region.
I had an opportunity to attend, set up and run an NCSM booth at the NCTM Regional Conference in Minneapolis. Thanks to my fellow board members - Valerie Mills, Carol Matsumoto, Sharon Rendon, and the following Central Region 2 NCSM State Team Leaders and members, for volunteering some time to engage members in conversation about all things NCSM while manning the booth: Pam Richards & Karen Hayes (MN Co- State Team Leaders), Bethann Wiley (MN), Jami Stone (South Dakota), Cathy Williams (ND) and Lynn Selking (IA co-State Team Leader).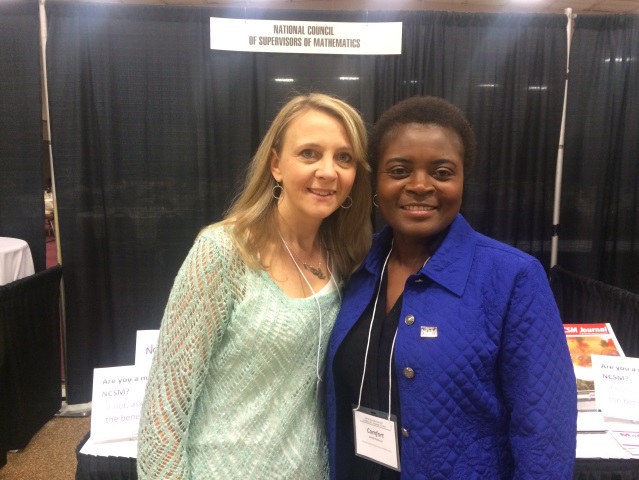 I also traveled to Missouri for the joint Missouri Council of Supervisors of Mathematics (MoCSM)/Missouri Council of Teachers of Mathematics (MCTM) Fall Conferences in Columbia. The conference theme "Network, Communicate, Support, and Motivate" was visible amongst attendees and felt during this two-day meeting. It was great to touch base with so many of you. It was an opportunity to work, to learn more about the MoCSM organization and to have continued conversations on the formal NCSM affiliation process. My appreciation to Rita Barger, Marilyn Cannon (pictured), and, the rest of the MoCSM Executive Board for your hospitality during my visit.
If you are planning to attend the 2016 NCSM Annual Conference in Oakland-San Francisco Bay Area, California, click on the following link for registration and additional information. There is a lineup of amazing speakers. I'm also hoping to see you in San Antonio in 2017!
Upcoming Spring State Conferences and Events
Missouri - 32nd Annual Interface Conference is open for registration! http://dese.mo.gov/college-career-readiness/curriculum/interface-conference
K-6 February 18-20, 2016
7-12 February 21-23, 2016
Minnesota - MCTM Annual Spring Conference, Duluth MN, April 29-30, 2016. For registration, visit www.mctm.org/springconf.php
North Dakota - NDCTM Conference, Grand Forks, April 22-23, 2016. Please visit www.ndctm.k12.nd.us/ registration and more information.
South Dakota - SDCTM Annual Conference, February 4-6, 2016, Huron, South Dakota. Go to www.sdctm.org/conference/annualconference.htm or contact Lori Stverak www.sdctm.org/ for additional information.
Wisconsin - Wisconsin Mathematics Council, Inc. Annual Conference, May 04 - 06, 2016, Green Lake, Wisconsin. Visit the website www.wismath.org and contact Debra Pass with questions.
Are you planning for an upcoming state conference? Do you need a NCSM leader to come show how NCSM can support math leaders in various roles (e.g. math specialists, coaches, etc.) in your district? Let me know. Or send me an email if you would like information or handouts for district, or state conferences.
Also, do you have information or know dates of other related events in our region? Feel free to send those to me to promote via our regional calendar. Please contact me at
A huge THANK YOU to you for your leadership and all you do for mathematics education!
Comfort