Region W1 Report - Spring 2016
News from the Western 1 Region
Sandie Gilliam, Western 1 Regional Director
Spring 2016
Greetings! By now you perhaps are getting ready for a spring break and that last push of the school year that includes testing! Most of your State Team Leaders joined me on-line in February for our first Google Hangout. This was exciting for me, as the other Regional Directors were interested in seeing how this on-line face-to-face format went. My sending email to state team leaders and/or calling them seemed less personal, so I wanted to try out something new-where we all could see each other and share ideas and happenings in our states: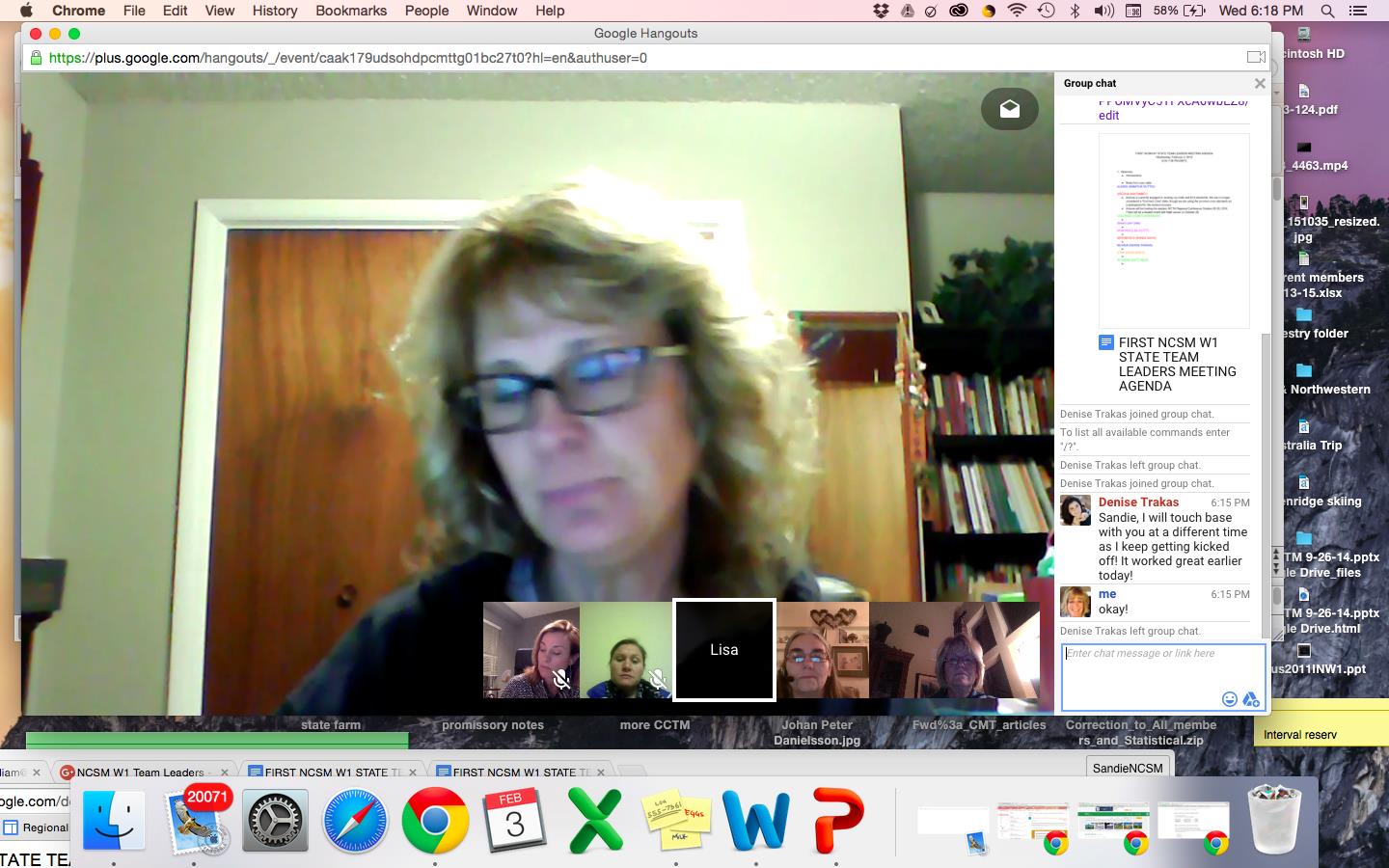 Alaska is planning for their 2017 biannual math/science conference in Fairbanks that will also include professional development for other content areas.
Arizona is currently engaged in revising their math and ELA standards. This undertaking includes multiple opportunities for math teachers and leaders to be involved in making important decisions on behalf of Arizona's children. In addition, Arizona will be hosting the western NCTM Regional Conference (Phoenix) October 26-28, 2016. NCSM will have a 1/2 day Phoenix Fall Seminar on October 25th (with Matt Larson), and Arizona Math Leaders will be meeting Oct 26-27.
Colorado has a new content specialist at the department of education (Raymond Johnson). The Colorado math leaders (CML) group, has been studying Principles to Action at their monthly meetings. This summer, Colorado will be hosting two 3-day NCTM workshops, one for elementary teachers and the second for middle school teachers. CCTM will be partnering with TODOS at their 2016 annual fall conference to include sessions on equity. Colorado has been in the process of looking to design a K-5 Math Specialist license. Stay tuned!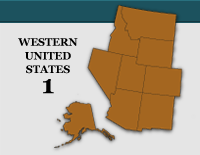 Idaho is a geographically large state with many districts and schools located in remote, isolated areas; nearly two-thirds of Idaho is wilderness. The diversity and geography associated with Idaho's schools lend itself to a high need for a statewide system of regional support for the ongoing professional support for all teachers of mathematics. Providing localized access to experts in mathematics education further supports the efforts made by teachers, school districts, and communities across the state.
In an effort to carry forward and advance the work begun with the Idaho Math Initiative, the State Department of Education and Idaho's Institutions of Higher Education have partnered, thanks to funding from the Idaho Legislature, to support the Idaho Regional Mathematics Centers. Through this coordinated, collaborative, and comprehensive statewide effort, the Regional Mathematics Specialist, State Department of Education and local universities strive to ensure that Idaho's teachers of mathematics are highly talented, trained, and effective professionals. Operating as regional support for all K-12 public schools in Idaho, the Idaho Regional Mathematics Specialists provide professional development for teachers and schools, conduct research to support mathematics teaching and learning in Idaho, and offer job-embedded classroom support for Idaho teachers. Welcome to Angie Godfrey, the new NCSM State Team Leader.
Montana has been very busy with math projects that include: STREAM Project K-12 (www.streammath.org), MPATH (www.streammath.org), Math Matters, SuMMiT, MT ASPIRE in Math (www.mtaspiremath.org), and MSP-LEAD. Check out the above websites to see what this math-wise ambitious state is doing!
In New Mexico, 90% of the funding goes to literacy. However, they do have an annual Math/Science/Environmental Conference every October/November and recently hosted a national Middle School Math Conference.
Wyoming also has new math content specialist at the state department, as well as a new dean at the university. Wyoming is working to increase opportunities for trainings for coaches and facilitators, and UW is active in seeking ways to make training available to coaches across the state. While the coaches are instructional coaches, not necessarily math coaches, some members have used some of the NCSM resources from "Coaching Corner".
The NCSM Annual Conference is fast approaching. If you are attending, please join your State Team Leaders and myself at the Western 1 Regional Caucus on Tuesday, April 12:
2614
3:30 PM to
4:15 PM
OCC 210/11
General
Caucus

NCSM Regional Caucus: Western Region 1
The caucus provides opportunities for you to connect, network, and celebrate regional success with fellow leaders. Your NCSM Regional Director and state/provincial leaders will share information on NCSM initiatives, national/provincial issues, and future events. There will be door prizes—we look forward to seeing you at the caucus.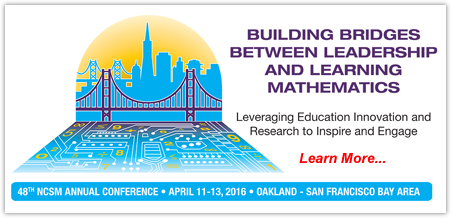 I hope to connect with many of you at the conference!
--Sandie