Region W1 Report - Fall 2016
News from the Western 1 Region
Sandie Gilliam, Western 1 Regional Director
Fall 2016
Happy Fall! Since our first regional hangout in April was so successful, and our W1 state team leader meeting at the NCSM conference gave us a chance to network face-to-face, your state team leaders and I were anxious to have another Google Hangout in May. (Angie Godfrey, the new NCSM State Team Leader from Idaho is in the main frame below, with Annette Zook, the new Colorado State Team Leader in the first little photo.)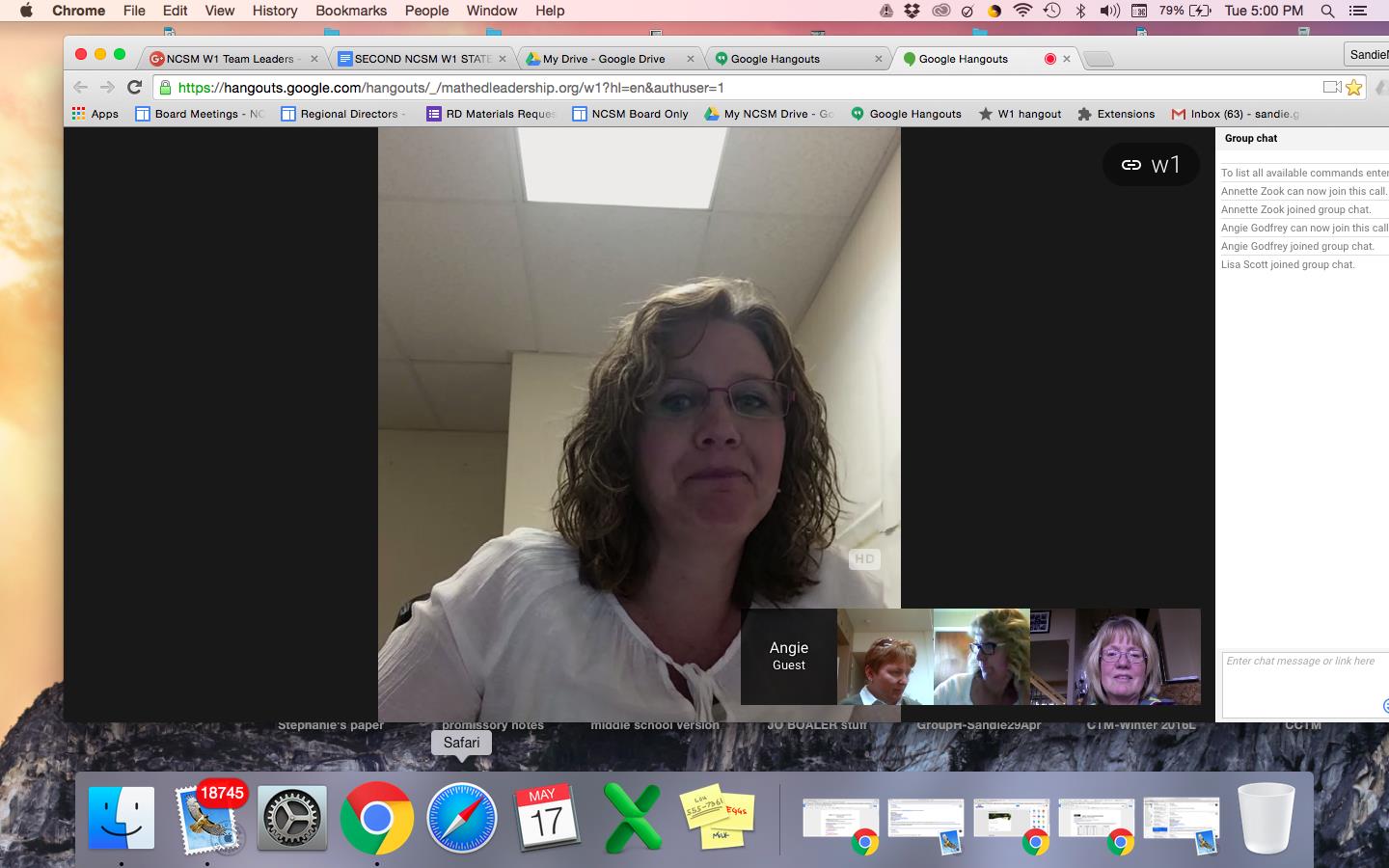 Our agenda was to set goals for our regional work in 2016-2017; calendar state conference dates, as well as my state visits; share important updates; and start the planning for/discuss both unconferences and creating additional NCSM affiliates in the W1 region.
Goal setting
As I travelled across our region last year speaking to math leaders and teachers, I am surprised by the number of folks that haven't even heard about NCSM and its benefits to leaders in the field: school/team/district math leaders, college professors in charge of pre-service teachers of mathematics, math coaches, and others. Your state team leaders and I are committed to reaching out to more of our colleagues and others in our respective states. You can also help us spread the word!
W1 State Affiliates
NCSM invites state, regional and provincial mathematics leadership organizations that meet the criteria attached to become an affiliate of NCSM and hope that state math leader organizations will consider this opportunity to work more closely with NCSM and to gain benefit from the association. If you live in Alaska, Colorado, Nevada or Utah, contact your respective state team leader (Samantha Wuttig, Annette Zook, Denise Trakas, or David Smith) to see how you might help. Arizona Mathematics Leaders (AML) is the only NCSM affiliate in our region.
Conferences
Start now planning for 2016-2017 state math conferences near you. (In some cases, while you live in one state, perhaps a different state's conference is closer to your location.) The following are the ones scheduled so far: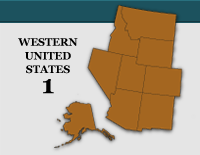 Colorado - September 22-23 (Denver)

Montana - October 20-21 (Helena)

New Mexico - October 14-16 (Socorro)

Utah - November 4-5 (Salt Lake City area)

Wyoming - Oct 17-18 (Casper)

California Mathematics Council (Western 2 Region) conference dates:
Northern: December 2-4 (Pacific Grove)
Southern: November 4-5 (Palm Springs)
Arizona will be hosting the western NCTM Regional Conference (Phoenix) October 26-28, 2016. NCSM and Arizona Mathematics Leaders will join forces the day before (October 25th) for the Phoenix Fall Seminar. I hope to see many of you at this regional event!
Unconferences
Montana and Nevada are looking into the idea of having an unconference: a loosely structured conference emphasizing the informal exchange of information and ideas between participants, rather than following a conventionally structured program of events. At an unconference, attendees create sessions on the spot, making for an energizing and freewheeling exchange. If this interests you, and you would like to be part of the planning, contact Lisa Scott (Montana) or Denise Trakas (Nevada).
Have an energizing and fulfilling fall!
~Sandie