Region C2 Report - Winter 2016/2017
News from the Central 2 Region
Comfort Akwaji-Anderson, Central 2 Regional Director
Winter 2016/2017
Recently I had a conversation with a friend about the ways in which we each go about accomplishing goals. As we talked, I reflected on coming into a leadership position as a Regional Director and what it takes to accomplish the inherent responsibilities. It became apparent to me that building connections is the backbone or key to successfully working with others across the region. I realized that one can't jump into a situation and make an impact without developing relationships in order for things to go forward.
Building relationships with colleagues/people from around my own state, and other educators who I have met at other times has been helpful and continues to be my goal. Regional, State and local events/conferences provide many opportunities for connecting with people. Here are some examples:
Annual Iowa Council of Teachers of Mathematics Conference
This joint 2016 Math & Science (ICTM - ISTS) conference was well attended! It brought together pre-service and in-service teachers, mathematics and science education leaders from around and outside the State of Iowa, for this annual conference. NCTM's President, Dr. Matt Larson kicked off the conference as the Keynote speaker. Larson talked about the Iowa Core and how it is re-shaping our content and expectations. Teachers from across the state shared examples of their work implementing the Common Core Math Standards. Among the many session presenters were NCSM State Team Leaders and NCSM members. Some of the topics they focused on included:
supporting Math Coaches as they assist teachers in helping their students make sense of the daily learning intention and success criteria; and,
strategies for supporting teachers to motivate and engage students beginning with high expectations in order to increase the likelihood of student success.
Having the opportunity to hear teachers from across the state and beyond, discuss essential elements related to the culture of their building or contexts, as well as share ways they work to meet the needs of each and every students was great!
NCTM Innov8 Conference in St. Louis
The importance of taking the time to build relationships and connections across the region has proven helpful for me over and over again including during the NCTM's Innov8 conference November 16-18 in St. Louis. Because of the relationships I had developed, I had support from State Team Leaders and other members in staffing the NCSM Booth. It was easier to ask people I knew. I want to express my gratitude to Marilyn Cannon (Missouri) and Amber Vlasnik (Nebraska).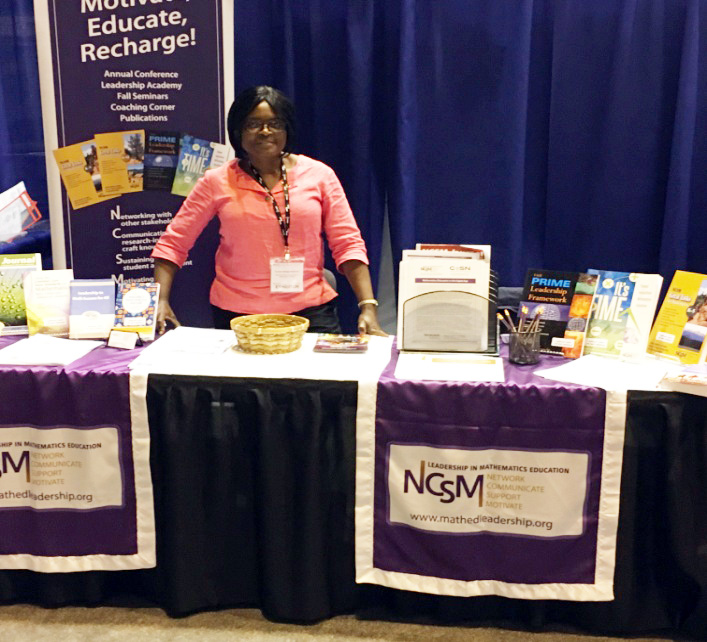 We had some good traffic at the booth. Individuals inquired about membership, picked up copies of the San Antonio Conference flyer, and the Equity and Social Justice position paper. Others inquired about affiliate membership, other resources and/or posed questions.
The conference sessions and experiences addressed three themes:
Developing instruction and assessments for multi-tiered systems of support
Supporting productive struggle
Motivating the struggling learner
Upcoming Events and Opportunities to Connect and Learn
NCSM leaders and members continue to seek opportunities to both enhance their own professional learning, support others' learning, or collaborate to spread the word about NCSM and the important work of mathematics leadership. Below are a few activities and events in which not only I, but our team leaders and many of our members will be participating.
Annual Conference: If you are planning to attend the 2017 NCSM Annual Conference in San Antonio, click on the following link for registration and additional information. Hope to see you in San Antonio in 2017!
Spring State Conferences and Events:
Minnesota Council of Teachers of Mathematics Conference DECC Convention Center, Duluth, MN, April 28 - 29, 2017
North Dakota Council of Teachers of Mathematics Joint Conference Crossroads Events Center, Minot, North Dakota, March 23rd - March 25th, 2017, more details to come!
South Dakota Council of Teachers of Mathematics Joint Conference Crossroads Events Center, Huron, South Dakota, February 02 - February 04, 2017, 7:00 PM - 4:00 PM
Wisconsin Mathematics Council Annual Conference, Green Lake Conference Center, Green Lake, WI, May 03 - May 05, 2017, 4:00 PM-1:30 PM
Are you planning for an upcoming state conference? Do you need a NCSM leader to come show how NCSM can support math leaders in various roles (e.g. math specialists, coaches, etc.) in your district? Let me know. Or send me an email if you would like information or handouts for district, or state conferences.
Also, do you have information or know dates of other related events in our region? Feel free to send those to me to promote via our regional calendar. Please contact me at
Comfort