Links
Inside Mathematics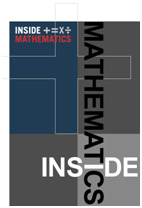 Inside Mathematics is a professional resource for educators that features classroom examples of innovative teaching methods and insights into student learning, tools for mathematics instruction, and video tours of the ideas and materials on the site.
The site contains a variety of information that could be useful for a mathematics coach or specialist in designing professional learning opportunities for teachers.
Videos showcase planning and coaching conversations, classroom lessons, and teacher reflections.
Mathematical problems or tasks from the Mathematics Assessment Resource Service (MARS) are organized by grade level and mathematics topic, and are accompanied by rubrics and samples of student work.
Tools are provided for coaches to aid them in planning and carrying out professional development and sustaining teacher growth.
Tools are provided for administrators or leaders of coaching programs to set a vision for mathematics instruction.
Topics addressed include: education reform, pedagogical change, relational and collaborative work, and reflective practice.
Some resources have been aligned to the Common Core Standards for Mathematical Practice.
Inside Mathematics grew out of the Silicon Valley Mathematics Initiative and is supported by the Noyce Foundation.
EMS&TL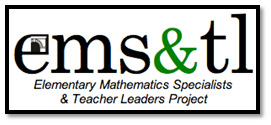 The Elementary Mathematics Specialists & Teacher Leaders (ems&tl) Project was created to provide professional development for elementary mathematics specialists and to examine the impact of the work of mathematics specialists at the regional and national level. It's website, self-described as a "clearinghouse," organizes practical information of interest to mathematics coaches or specialists and leaders of coaching programs.
Material includes:
Descriptions of school district-based initiatives which involve elementary mathematics specialists
College and university graduate level programs for mathematics specialists
State certification guidelines for elementary mathematics specialists
Publications ranging journals to books to testimonies
A connection to the WestEd Doing What Works mathematics intervention site
Slides and handouts from the project's presentations at conferences
The initiative created an iPad application for Common Core Look-fors, which is a classroom peer-observation tool focused on student engagement with the mathematical practices.
The Elementary Mathematics Specialists & Teacher Leaders Project is an initiative of McDaniel College in Maryland and is supported by the Brookhill Foundation.