2010 NCSM Annual Conference
Welcome
"Charting a Course to Mathematics Leadership"

April 19-21, 2010
San Diego, California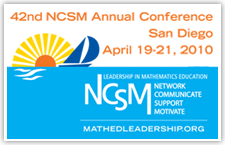 Whether you're a first-timer or a veteran of NCSM Annual Conferences, join us for three exciting days focused on important issues for leaders in mathematics education.
NCSM's Program Committee has lined up a terrific slate of speakers who will help us focus on "Charting a Course to Mathematics Leadership."
Conference sessions will be led by experts in their field-people at the forefront of change in mathematics education.
Strands
The six strands featured at this exciting and educational NCSM event are:
Charting a Course to Equity and Access
Charting a Course to Curriculum Leadership
Charting a Course to Teaching and Learning Leadership
Charting a Course to Assessment Leadership
Putting PRIME into Practice
Developing Coaches - Developing Teachers
Take this opportunity to enlarge your network of colleagues who can assist you in building and supporting your local mathematics program and to meet new friends who share your interests and love of mathematics education. Become a part of NCSM, the mathematics leadership organization for educational leaders that provides professional learning opportunities to support and sustain improved student achievement.
Join us in sunny San Diego where exciting opportunities await you at our 2010 Annual Conference!