2019 NCSM Annual Conference
Welcome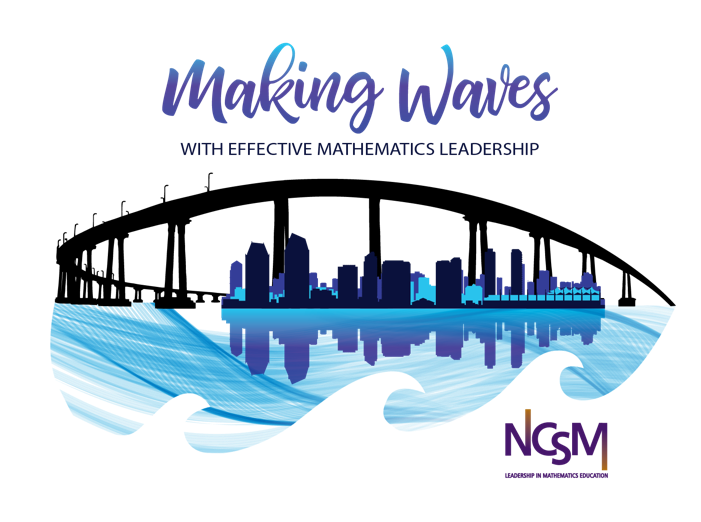 Making Waves
with Effective Mathematics Leadership

April 1-3, 2019
7:00 am Monday - 5:00 pm Wednesday
San Diego, CA
Marriott Marquis San Diego Marina


Online registration is now closed.
Onsite registration will be available starting on Sunday, March 31, at 2pm at the Marriott Marquis San Diego Marina.
NCSM is happy to announce the 51st NCSM Annual Conference! Whether you are a first-timer or a veteran of NCSM annual conferences, join us for three exciting days in San Diego CA, focused on important issues for leaders in mathematics education.
Take this opportunity to enlarge your network of colleagues who can assist you in building and supporting your local mathematics program and to meet new friends who share your interests and love of mathematics education. Become a part of NCSM, the mathematics leadership organization for educational leaders that provides professional learning opportunities to support and sustain improved student achievement.
Join us in San Diego, CA, where exciting opportunities await you at our 2019 Annual Conference!
Download the 51st Annual Conference Program Book
Conference App now available
Use the QR code to the right or Download from the App Store or Google Play. If you have the app from last year, you may update it to work with this year's info.
Show your support for the NCSM Annual Conference
NCSM encourages you to download a "Join me" badge to your blog or share via your favorite social media.
Attendee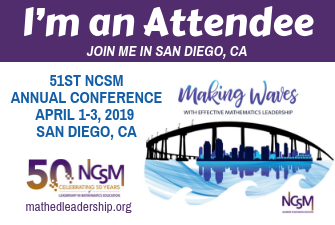 I'm an Attendee! Join me in San Diego, CA for 3 exciting days at the 51st NCSM Annual Conference, "Making Waves with Effective Mathematics Leadership" - Important issues for leaders in mathematics education! #NCSM19 http://bit.ly/NCSMSD19

or

I'm an Attendee! Join me for great professional learning for mathematics education leaders at #NCSM19 in San Diego, CA, Apr. 1-3 http://bit.ly/NCSMSD19
Presenter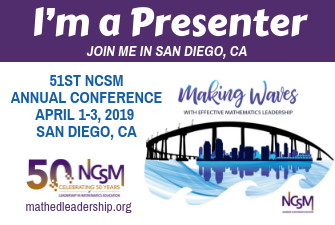 I'm presenting at the 51st NCSM Annual Conference, focused on important issues for leaders in mathematics education. Join me in San Diego, CA, Apr 1 -3! #NCSM19 http://bit.ly/NCSMSD19
Volunteer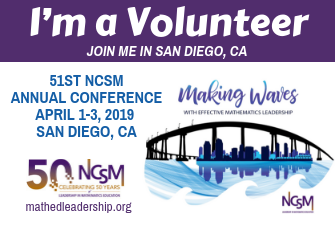 Make new friends as you contribute to an enhanced conference experience for all! Sign up to volunteer at the 51st NCSM Annual Conference, focused on important issues for leaders in mathematics education. #NCSM19 http://bit.ly/NCSM19SD-V

or

Join me and sign up to volunteer at #NCSM19 Apr. 1-3. Learn more: http://bit.ly/NCSM19SD-V
Sponsor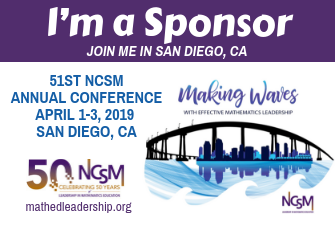 We are a proud sponsor of the 51st NCSM Annual Conference, focused on important issues for leaders in mathematics education. Join us Apr. 1-3, in San Diego, CA! #NCSM19 http://bit.ly/NCSMSD19
Exhibitor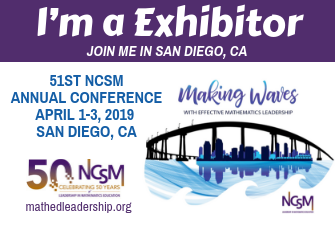 Stop by to see us at the 51st NCSM Annual Conference, focused on important issues for leaders in mathematics education. Apr. 1-3 in San Diego, CA. #NCSM19 http://bit.ly/NCSMSD19