Sponsor Liaison
(2011-2015)
---
Address
916 Hwy 64 E
PO Box 2359
Alma AR 72921
Phone
(479) 670 3794
Fax
(479) 632-4793
Cell
(479) 651-5374
Email

---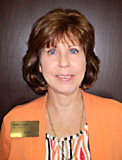 Sherry Lane
K-12 Mathematics/Science Curriculum Specialist, Alma School District
As an incoming NCSM Board Member, I have dual emotions of anxiety and excitement; however, I have already experienced excellent support from other NCSM Board members. This is a wonderful opportunity to work with a group of outstanding educators, and it is certain that I will greatly benefit from this experience. I hope to make a worthwhile contribution to an already great organization.
As a classroom teacher, my membership in NCTM was professionally very important for me. The resources and information available to support my teaching practice were of tremendous value. When I made the transition from the secondary classroom to develop and direct a STEM Center on a university campus, I discovered that NCSM was more valuable and aligned with my needs.
At that time (1999), I became a member of NCSM and began attending the annual conferences. The Conference sessions provided me with resources, ideas, and incredible assistance in working with teachers in school districts and providing professional development. Throughout the years the journals, newsletters, and other materials received continued to assist my learning and stimulate my thinking. The opportunity to network and share ideas with other mathematics leaders remains one of the most important benefits of my NCSM membership and conference experiences. My membership and association with NCSM continues to enhance my current professional role as a K-12 math leader for a school district.