Welcome
NCSM Position Papers
Read a new position paper in the Computer Science and K-12 Mathematics
Read a new position paper in the Joint Position Papers Series
"Building STEM Education on a Sound Mathematical Foundation" (NCSM/NCTM)
Summer Leadership Academy
Register now for the 2018 Summer Leadership Academy
Newsletter Available
The Winter 2017-2018 Newsletter is now available to Members online.
Decorations for NCSM's 50th Celebration
As we celebrate 50 years of NCSM, we are challenging you to challenge your students to create a piece of art to commemorate NCSM's 50th Anniversary. You could write problems that end in 50, create equations that would graph or end in 50, draw pictures or diagrams that relate to this in some way. Be as creative as possible.
The rules are simple:
The piece of math art should be either 50th related, or NCSM related, or any combination thereof.
No bigger than 15" x 20" and not smaller than 8.5" x 11"
We ask you to share this challenge with your students, teacher's, coaches, principals, department chairs, everyone, because we want to show artwork from students, whether they are pre-K, through higher education, any and all are welcome. Leaders - we ask that you select 4-5 of the best pieces and send them to NCSM - PO Box 3406, Englewood, CO 80115. Please note that any pieces sent to NCSM become the property of NCSM and will not be returned.
Please include on the Math Art the student name, teacher name and school. We would like to have our Math Art be representative of the entire membership. Please submit these works soon and definitely before February 1, 2018.
NCSM Stands up for Students and the Leaders, Teachers, and Coaches who Support Them
NCSM stands behind quality research and supports the independence and freedom of the mathematics education researchers whose vision and hard work informs the work we do in schools and classrooms nationwide. Sometimes the findings of research challenge the status quo and cause us to question the state of the world as it currently exists. While these findings and challenges may be uncomfortable for some, NCSM believes strongly that these conversations and research are necessary to the work we do in service to educators and our students. Because no single study or research report should direct broad policy, NCSM is committed to helping leaders understand the full body of available research and giving leaders the tools they need to make informed decisions for their school contexts.
This past week the same news source that targeted NCSM and TODOS' joint position paper on equity and social justice has targeted another member of our mathematics education community, Dr. Rochelle Gutíerrez, with an article about her recent chapter in a volume published by the Association of Mathematics Teacher Educators (AMTE). Read AMTE's statement of support for the volume. NCTM and TODOS have also produced statements of support containing valuable information. The mathematics education community has responded passionately in defense of Rochelle on social media using the hashtag #IstandwithRochelle, and supporting the research agenda of not just this one individual, but also the work of all researchers. NCSM believes in research and academic debate, thus we strongly condemn the content and nature of the personal attacks against researchers and the work they produce. NCSM joins its voice to the resounding support in the mathematics education community for researchers, particularly Dr. Gutierrez in this context, as well as research in general and the role it plays in making the futures of our students brighter.
50th NCSM Annual Conference - Washington, D.C.
New Grants for Educators
Teacher-Leader Professional Learning Grant (Pre-K-12)
49th NCSM Annual Conference, San Antonio
Speaker Handouts available now!
Spring Journal Available
The Spring 2017 NCSM Journal of Mathematics Education Leadership is now available to Members online.
Summer Leadership Academy
36 Speaker Handouts now available!
A Call for a Collective Action to Develop Awareness:
Equity & Social Justice in Mathematics Education
As the 2016-2017 school year begins, we invite you to join with educators from around the country and possibly the world in A Call for a Collective Action to Develop Awareness: Equity and Social Justice in Mathematics Education.
Here you will find a listing of articles and books identified by several mathematics education organizations and mathematics educators. Each month's reading(s) has a set of focus questions for you to consider during that month as you reflect on the readings.
It Worked!
Over 20 vignettes of first-hand successful coaching experiences are now live on It Worked! -- a new section on Coaching Corner. In December 2015, the NCSM Coaching Committee collaborated with a group of math specialists, teacher leaders, coaches from all levels at McDaniel College in Westminster, Maryland.
NCSM Position Papers
Read two new position papers in the Improving Student Achievement Series

"Improving Student Achievement in Mathematics Through Formative Assessment in Instruction" (NCSM/AMTE)

"Improving Student Achievement by Implementing Highly Effective Teacher Evaluation Practices"
Shop Online
Purchase NCSM books and merchandise in our online store.
NCSM Board of Directors Election Results Announced
Denver, CO -- The National Council of Supervisors of Mathematics announced today election results for the organization's board of directors. The terms of the newly elected board members will begin at the April 2018 NCSM Annual Conference in Washington, DC. Election results for the NCSM Board of Directors are as follows:
Mona Toncheff
President Elect

Maria Everett
Second Vice President

Cheryl Cantin
Regional Director, Canada

Bernard Frost
Regional Director, Southern 1

Denise Trakas
Regional Director, Western 1


50th NCSM Annual Conference
Leading Mathematics into the Future:
Inspiring Monumental Change

April 23-25, 2018
7:00 am Monday - 5:00 pm Wednesday
Washington, DC


Online registration is now closed.
Onsite registration will be available starting on Sunday, April 22, at 2pm at the Walter E. Washington Convention Center.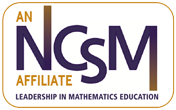 The NCSM Affiliates are valued members of the NCSM organization. Please read more about our current affiliates and the process to follow for your mathematics education organization to become an NCSM affiliate.