NCSM Virtual Coaching Labs
NCSM Virtual Coaching Labs
5:00-6:30 EST/2:00-3:30 PST
NCSM's mission is to equip and empower a diverse education community to engage in leadership that supports, sustains, and inspires high-quality mathematics teaching and learning every day for each and every learner.  NCSM recognizes that coaching is a vital component of mathematics leadership, regardless of your job title. The work of coaching is to support and empower teachers to ultimately increase student learning, create positive student identities, and develop confident users of mathematics.
NCSM is excited to announce the return of the NCSM Virtual Coaching Labs!
Virtual Coaching Labs are 90-minute virtual sessions in which leaders and coaches learn about mathematics coaching, hear from featured speakers, and have the opportunity to practice coaching skills.
Each session will highlight a specific aspect of coaching. During each session, participants will have the opportunity to practice coaching skills in real-time through role-play experiences in small groups.
Each session will be held from 5:00-6:30 EST/2:00-3:30 PST.
We have an amazing line-up of featured speakers for this year:
| | | |
| --- | --- | --- |
| Date | Featured Speakers | Session Focus |
| November 14, 2023 | Mona Toncheff | Establishing Coaching Routines |
| December 5, 2023 | Nicora Placa | Collaborative Coaching Tools |
| December 19, 2023 | Jenny Bay-Williams | Math Coaching with an Equity Lens: Integrating Mathematics Practices and Culturally Responsive Instruction |
| January 9, 2024 | Beth Kobett | Strengths-Based Coaching |
| January 30, 2024 | Kandi Hunter | Strategic Coaching: Coaching Leaders |
| February 20, 2024 | Skip Fennell | Advocacy for Coaching |
If you are a teacher leader, coach, administrator, or supervisor you won't want to miss out on these professional learning coaching labs!
Features of each Virtual Coaching Lab
Explicit focus on coaching practices, philosophies, and skills

Problems of practices that are designed for mathematics education leaders

Real-time feedback and coaching

Materials, resources, and strategies to use in your role

Networking opportunities among leaders from other locations
Design of the Virtual Coaching Lab
Coaching Lab Spotlight:  Each virtual coaching lab will have a particular focus that will be spotlighted at the start of the coaching lab 
Problem of Practice: Participants will engage in small group exploration of a problem of practice in which they can apply techniques discussed in the session spotlight
Role Play:  Participants will have the opportunity to role-play as a coach, client, or process observe, and receive real-time feedback on coaching
Maximize your learning by attending multiple sessions
Each virtual coaching lab is specially designed to focus on different aspects of mathematics coaching.  Attending each of the coaching labs will provide you with the opportunity to build your coaching skills to support your leadership work.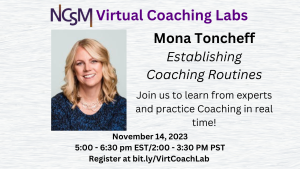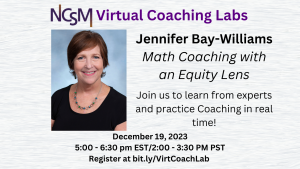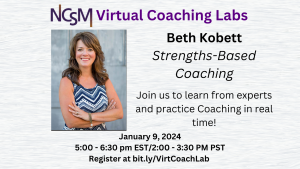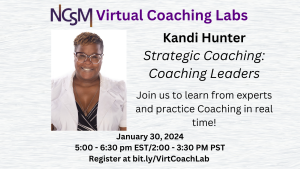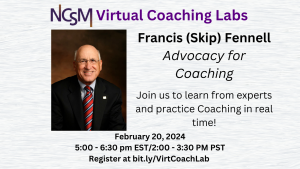 Registration
Registration Payment Options 
You may register online, by fax, or by mail.
You may pay for registration by check, purchase order, or credit card: MasterCard, Visa, or Discover. You may only use a check or Purchase Order if you are mailing your registration by way of the US Mail. Please note: If registering by purchase order, payment is due one week prior to the academy you plan to attend. NCSM does not accept purchase orders for membership dues.
Registration Fees
| | | |
| --- | --- | --- |
| | Member | Non-Member |
| Individual Coaching Lab | $25 | $30 |
| Three Coaching Labs Bundle (Select your preferred dates) | $65 | $80 |
| Six Coaching Labs Bundle | $125 | $150 |
Registration Deadlines
Please register by the following dates for each virtual coaching lab:
November 9, 2023 for Coaching Lab 1 scheduled on November 14, 2023.
December 1, 2023 for Coaching Lab 2 scheduled on December 5, 2023
December 13, 2023 for Coaching Lab 3 scheduled on December 19, 20223
January 4, 2024 for Coaching Lab 4 scheduled on January 9, 2024.
January 25, 2024 for Coaching Lab 5 scheduled on January 30, 2024.
February 15, 2024 for Coaching Lab 6 scheduled on February 20, 2024.
NCSM will accept registrations on a space available basis.
Please contact NCSM Office (303-317-6595) to check availability. Registration is not guaranteed until your payment is received.
Registration Confirmation
You will receive an email confirmation, which will serve as a receipt if you've included an email address in your profile. Allow 2-3 weeks for processing. Registration becomes effective only when payment is received. If you have not received your registration confirmation within a week of the academy you've registered for, call NCSM Office at (303) 317-6595.
Login instructions and the link for the virtual seminar will be distributed during the week prior to the scheduled event.
Cancellation and Refund Policy
Virtual Coaching Lab registration is nonrefundable. If you miss any sessions they will be recorded and made available to you.
Each of the coaching labs will be hosted by NCSM Board members: Jenny Novak, Erin Lehmann, Ian Shenk, and Nicora Placa. Specific Coaching Labs will also include special guest speakers with expertise in a particular field of coaching. 
Jenny Novak
NCSM Second Vice President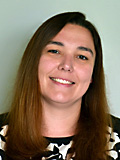 Jennifer Rose Novak is currently the Director of Curriculum, Instruction, and Assessment for Howard County Public Schools in Maryland. As curriculum director, she provides leadership in the implementation of standards-based curriculum, instruction, and professional learning for teachers and administrators. In her twenty-two years of service in public education, Jenny has served as a mathematics teacher, instructional coach, curriculum developer, author, and mathematics coordinator in Howard County, as well as a mathematics education associate for the Delaware Department of Education.
Supporting teacher growth and leadership development through coaching and professional learning is a passion for Jenny. She has designed and delivered a variety of professional learning experiences to support mathematics leaders, coaches, and administrators as critical leaders in mathematics education. She has also served as an adjunct professor for graduate courses for mathematics instructional leadership at McDaniel College and UMBC.
Jenny has served on a number of organizational boards, including MATHCOUNTS (2016-2019), the Delaware Mathematics Coalition (2016-2018), and the Maryland Council of Teachers of Mathematics (2009-present), for which she served as president (2015-2017). She has served as one of the NCSM Professional Learning Directors (2020-2022) and will begin her term as NCSM Second Vice-President in September 2022.
Jenny earned a bachelor of science in mathematics with a concentration in secondary education from Towson University and a master's in curriculum and instruction from McDaniel College.
Erin Lehmann
NCSM Professional Learning Director
Erin Lehmann, Ed.D., is an Assistant Professor and Superintendent Program Coordinator of Educational Leadership in the School of Education at the University of South Dakota. Her educational career spans more than 20 years as an elementary teacher, mathematics teacher, mathematics coach, curriculum specialist, and principal. She has authored, Teaching Mathematics Today 2nd ed., co-authored, Instructional Leadership in Mathematics Education, as well as numerous articles. Erin has served as NCSM's Journal of Mathematics Educational Leadership (JMEL) Editor from 2019-2022. She will serve as one of the NCSM Professional Learning Directors beginning September 2022. Erin has been very fortunate to have worked with people who were always passionate about mathematics as well as leadership. There is a sense of mathematical unitedness when educators are working towards doing what is right for students.
Ian Shenk
NCSM Regional Director, Southern US 1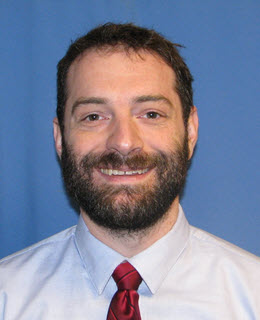 Ian Shenk is the Mathematics Curriculum Specialist for Hanover County Public Schools in Virginia. In this role, he supports teachers and administrators in designing, delivering, and recognizing high-quality instruction that is engaging and relevant to all students. Perhaps most importantly, he coordinates Hanover's team of twelve building-based math coaches. This coordination involves providing professional learning experiences for coaches, working with them as a group and individually to support their continued professional growth. His twenty years in education also include experience as a high school math coach, a building-level administrator, and a classroom teacher.
Ian is active in several organizations, including serving as president for the Virginia Council of Teachers of Mathematics (VCTM) and the Virginia Council of Mathematics Supervision (VCMS). He is beginning his second year as the NCSM Regional Director for Southern US 1.
Nicora Placa
NCSM Coaching Coordinator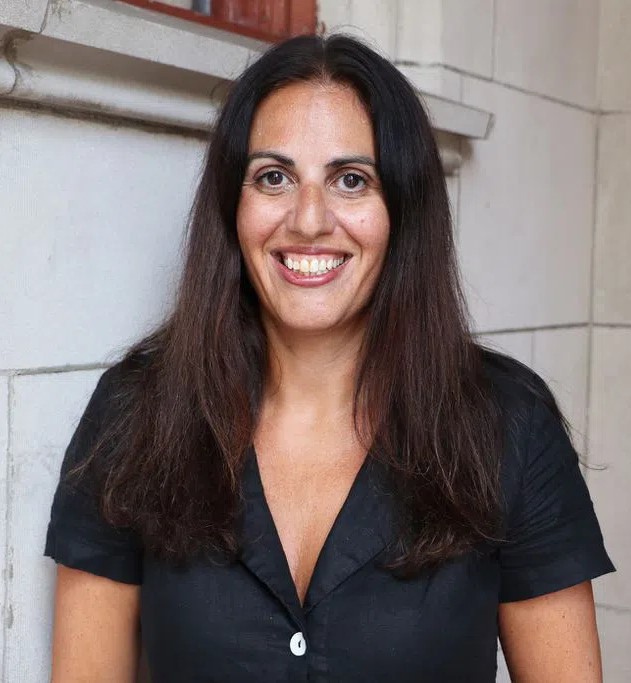 Nicora Placa, Ph.D., is an Assistant Professor in Curriculum and Teaching at Hunter College which is part of the City University of New York (CUNY). In her 20 years in education, she has served in a variety of roles including elementary school teacher, middle school mathematics teacher, and mathematics coach. She continues to work with schools and districts to provide collaborative coaching and professional learning support. She has authored 6 Tools for Collaborative Mathematics Coaching, as well as numerous articles. Nicora is beginning her first year as NCSM Coaching Coordinator. She is constantly learning from the teacher teams she works with and is inspired by them to find new ways to create opportunities for all students to learn and love math.