Secretary
(2013-2015)
---
Address
44001 Garfield Rd.
Clinton Township, MI 48038
Phone
(586) 228-3482
Email

---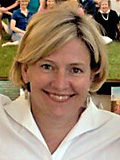 Marianne Srock
Mathematics Consultant Macomb Intermediate School District
Macomb County, Michigan
It has always been puzzling that no school or community would allow its students to exit its doors unable to read, write, or communicate fluently, yet it has been socially acceptable for those same students to exit with limited numeracy and problem solving skills. We see the results of this trend in the increased number of students taking remedial mathematics courses in college as well as a public unable to understand the complexities of their world. WE need to lead the change.
The PISA Report (Program for International Student Assessment) and the TIMSS study (Trends in International Mathematics and Science Study) informed us as a nation that change was necessary. The Common Core State Standards and Mathematical Practices as well as the new assessments from SBAC and PARCC are an exciting answer to that change. We can do better!
Change is never easy. As leaders in mathematics education we must keep in mind the spirit of Math Practice #1, perseverance (our own and those around us)! Through the collaboration that our membership in NCSM affords us, we owe it to each and every student, teacher, and administrator, to improve the system and offer our customer, the student, the best possible learning experience in mathematics on the planet. And we don't have to do it alone. We have the support and knowledge of thousands of math educators. We have NCSM.
The last few years have been eye-opening. Assisting schools labeled as failing and the implementation of legislation has been challenging. I appreciate the support, knowledge, research, and problem solving of my colleagues in NCSM. Together, we steady the ship and right the course.
After spending twenty five years as a mathematics teacher and building administrator, I accepted a position at a regional educational facility assisting 21 school districts in K-12 mathematics. I attended my first NCSM Conference shortly after that and went from feeling overwhelmed to finding a sense of direction. It felt validating to know that in Kansas, Washington, and Hawaii they were experiencing some of the same things we were in Michigan. Collaborating with colleagues and listening to their successes and failures made me realize that NCSM is a golden opportunity to learn.