Regional Director, Central US 2
(2014-2017)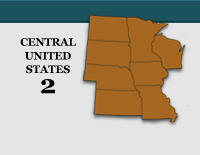 ---
Iowa, Kansas, Minnesota, Missouri, Nebraska, North Dakota, South Dakota, Wisconsin
---
Address
2756 Jacque Street
Iowa City, IA 52246
Email

---
Central Region 2 Team Leaders:
Iowa: Vicki Oleson
Email:

Iowa: Lynn Selking
Email:

Kansas: Yvonne Spalding
Email:

Kansas: Sara Frisbie
Email:

Minnesota: Pamela Richards
Email:

Minnesota: Karen Hyers
Email:

Missouri: Marilyn Cannon
Email:

Missouri: Anthony Scoles
Email:

Nebraska: Josh Males
Email:

North Dakota: Cathy Williams
Email:

South Dakota: Sharon Rendon
Email:

South Dakota: Jamalee Stone
Email:

Wisconsin: Becky Walker
Email:

Wisconsin: Karin Lange
Email:


---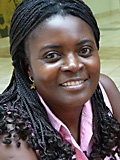 Comfort Akwaji-Anderson
Teacher Educator & Math Coach
News from Central 2 Region
Comfort Akwaji-Anderson, Central 2 Regional Director
Winter 2016/2017
Recently I had a conversation with a friend about the ways in which we each go about accomplishing goals. As we talked, I reflected on coming into a leadership position as a Regional Director and what it takes to accomplish the inherent responsibilities. It became apparent to me that building connections is the backbone or key to ...
I am both thrilled and honored to be representing Central Region 2. Back in April of 2008 when I attended my very first NCSM Conference in Salt Lake, I came away excited and more interested in doing more to impact students' mathematics learning. Since then, I continue to sharpen and expand my mathematics leadership experience through my current roles (teacher, researcher, teacher educator, math coach), as well as participation in NCSM member professional development opportunities.
NCSM provides a network and venue for support and needed leadership resources (including professional colleagues and various individuals with diverse expertise) to its members for the purpose of providing high quality mathematics education for all students. As your Regional Director, I look forward to meeting and/or networking with you throughout my three year tenure. And together, let's strive to continue to be, to collaborate, and share the leadership for equity and excellence in mathematics education.
I have 20+ years of experience in the areas of diverse PK - 20 teaching and learning, mentoring, supervising pre-service and in-service professionals, and urban Education and program development. Prior to my current position as Teacher/Math Coach, I was a teacher educator involved in the complex work of preparing future teachers. During my first two years, I introduced and provided professional development on the PRIME Leadership Framework to mathematics teacher educators as part of our team's effort to better prepare pre-service teachers to work with diverse learners in the mathematics classroom.
Even before taking on the teacher educator role, I served as a member of a district's Mathematics Area Resource Specialist Team. It is during this time that I learned about the NCSM organization and its Annual Conference. Since being given the opportunity to attend that first conference as an Iris Carl awardee, subsequent conferences and leadership academies provided the support and tools I needed to continue to provide leadership and expertise in mathematics instruction, as well as staff development at the elementary level. Our team supported the district's efforts of implementing national reform initiatives and helping to ensure equity in classroom instruction and distribution of materials. NCSM supported me then, with a variety of resources and continues to do so.
Caucus Conversations: Engaging Leaders
Oakland, CA 2016 Annual Meeting
Learn from members and share ideas with the 2016 Oakland Caucus attendees and the NCSM Board of Directors by visiting these sites:
Caucus Conversations: Engaging Leaders
Boston, MA 2015 Annual Meeting
View Full Calendar
Events Calendar for Central US 2