Regional Director, Southern US 1
(2015-2018)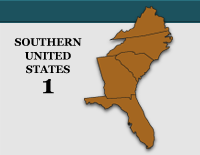 ---
Bermuda, Florida, Georgia, Military AA: APO/FPO, Puerto Rico, North Carolina, South Carolina, Virgin Islands, Virginia
---
Address
Appalachian State University
Department of Mathematical Sciences
Walker Hall
Boone, NC 28608
Phone
(828) 262-2381
Email

---
Southern Region 1 Team Leaders:
Florida: Margaret Bambrick
Email:

Florida: Kristen Condella
Email:

Georgia: Carla Bidwell
Email:

Georgia: Linda Smith
Email:

North Carolina: Deborah Crocker
Email:

North Carolina: Betty Long
Email:

North Carolina: Kitty Rutherford
Email:

North Carolina: Joanne Whitley
Email:

South Carolina: Margaret Knight
Email:
Email:

Virginia: Vickie Inge
Email:

Virginia: Alfreda Jernigan
Email:
Email:

Virginia: Fiona Nichols
Email:

Virginia: Ian Shenk
Email:


---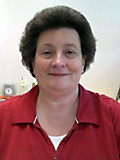 Deborah A. Crocker
Professor of Mathematical Sciences
Appalachian State University
News from the Southern 1 Region
Deborah A. Crocker, Southern 1 Regional Director
Summer 2017
Hello to all Southern 1 NCSM members and those interested in NCSM! Below you will find some news items and thoughts for the summer...
I already enjoy working with teachers and school leaders in North Carolina. I look forward to having the opportunity to work with the leaders in the Southern 1 Region. I believe my experiences in North Carolina give me the experience needed to further the mission of NCSM. Together, I believe we can improve mathematics education for all students. I will include the mission and vision of NCSM in my work at all levels.
I would like to thank Wanda Audrict for her work and dedication while serving in this position. She has been an inspiration to me and I hope to continue working with her as I begin my term as the Regional Director of Southern 1.
My work with inservice teachers and leadership roles in the North Carolina Council of Teachers of Mathematics led me to join NCSM. The resources available to members have been invaluable in professional development and work with our state organization. There is no better source of information on leadership. I attended the NCSM Summer Leadership Seminar in Atlanta and was able to use the information in a grant project, in my work, and with our state organization. I still find the materials and conferences to be valuable sources of the latest information on leadership. The speakers always share the most current ideas and practices.
2017 Annual Meeting, San Antonio, TX
View Full Calendar
Events Calendar for Southern US 1