Regional Director, Southern US 1
(2012-2015)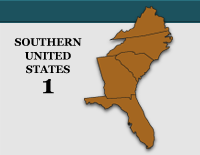 ---
Bermuda, Florida, Georgia, Military AA: APO/FPO, Puerto Rico, North Carolina, South Carolina, Virgin Islands, Virginia
---
Address
Department of Teaching and Learning
DeKalb County School System
1701 Mountain Industrial Blvd
Stone Mountain, GA 30083
Phone
(678) 676-0719
Fax
(678) 676-0229
Email

---
Southern Region 1 Team Leaders:
Florida: Jill Nielsen
Email:

Florida: Lia Crawford

Georgia: Kelly Price
Email:

Georgia: Dan Funsch
Email:

North Carolina: Betty Long
Email:

South Carolina: Karen Threlkeld

Virginia: Fiona Nichols
Email:

Virginia: Ian Shenk
Email:


---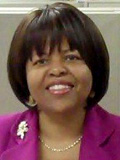 Wanda Audrict
CURRICULUM and INSTRUCTION COORDINATOR for MATHEMATICS (K-12), DeKALB COUNTY SCHOOL DISTRICT, STONE MOUNTAIN, GEORGIA
News from the Southern 1 Region
Wanda Audrict, Southern 1 Regional Director
Spring 2013
Do you need a NCSM leader to come speak at your state conference? Send me an email if you would like information, handouts and goodies for state conferences to advertise our services for math specialists, coaches and math leaders. The Southern 1 region is a combination of ...
My experiences in Georgia and our district since 2005 as we implemented Performance Based Standards have served to reinforce my belief that all students can learn and do mathematics. This knowledge and experience places me in a position to assist, guide, and support others as we begin nationwide implementation of Common Core State Standards. I believe that all students can learn and do mathematics when teachers employ the appropriate strategies, support, and pacing. Consequently, supporting the National Council of Supervisors of Mathematics' vision of equity and access for all students is aligned with my beliefs and experiences. I will embed this vision in interactions and presentations whenever and wherever possible. My support is steadfast for vertical teaming among teachers to ensure students and teachers are consistently prepared for the next academic level.
When I was named the High School Mathematics Coordinator for the DeKalb County School District, I received a membership in the Georgia Council of Supervisors of Mathematics (GCSM) organization. I joined the National Council of Supervisors of Mathematics because it was recommended to me by several members of GCSM. My NCSM membership has provided a wealth of information, guidance, and support about being an effective mathematics leader, I have especially appreciated the Leadership Academies.
View Full Calendar
Events Calendar for Southern US 1