Affiliate Group Chair
(2017-2019)
---
Address
8051 W. Clara Ln.
Peoria, AZ 85382
Email

---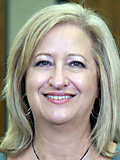 Nanci Smith
Educational Consultant, Effective Classrooms Educational Consulting
Greetings! I am very excited to be coming on the NCSM board representing the many affiliates across the country. I am following the capable footsteps of Carol Matsumoto, and will continue her innovations in communication including regular Google Hangouts and utilizing the Google Community site.
I am very thankful the technology that allows us across the nation to communicate with ease and without cost! How great to be able to share ideas and what our affiliates are doing with others in very different parts of the country. Not only can we gain fresh ideas from each other, but we can also share concerns and problem solve together.
Additionally, I am excited for the opportunity of reaching out to new affiliates to help them come into the NCSM family, as well as continuing to support the existing affiliates with anything necessary to remain in good standing.
I am thankful to become part of this amazing group of educators and continue learning and growing alongside other educators who are committed to facilitating the leading and teaching of mathematics to accomplish great goals for each and every student.
I have a very dear friend who has talked to me of the "old days" of NCSM - the days when there were less than 100 members and everyone knew each other… and the "everyone" were the Who's Who in Mathematics! From my first NCSM conference in 2000, I have experienced the same! Of course, there are many more members and we don't all know each other, but the quality of conversations and thought are still amazing and incredible. What greater place is there to learn the depth of research and practical steps of being a leader in mathematics?
I am now a full-time consultant, and perhaps value the contributions of NCSM in my thinking and learning than ever before. As I work and lead administrators, coaches and teachers in becoming excellent facilitators of mathematics learning, I find myself relying on the resources and learning I have gained from NCSM. I cannot tell you how thrilled I am to become part of the NCSM board, to learn from, and to contribute to the continued work of what it means to be a leader of mathematics learning.