Associate Newsletter Editor
(2017-2019)
---
Address
Tartan High School
828 Greenway Ave N
Oakdale, MN 55128
Phone
(651) 702-8666
Twitter
@keyhyers
Email

---
Other Resources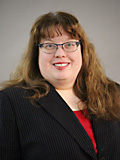 Karen Hyers
High School Mathematics Teacher
I am honored to have the opportunity to serve NCSM as the Associate Newsletter Editor. NCSM connects math education professionals and provides opportunities to share resources focused on improving achievement for all students. Through my work in state and district organizations, I know that this collaboration is vital to the growth of our profession.
Several years ago during an NCTM Conference, a colleague suggested that I take a look at NCSM. I was instantly impressed with the depth and breadth of materials available.
As a classroom teacher, I turn to NCSM for resources to focus and improve my teaching practice. As a department chair, I turn to NCSM for tools to improve my professional learning communities and for coaching resources. I have been particularly impressed by NCSM's "A Call for a Collective Action to Develop Awareness: Equity & Social Justice in Mathematics Education" and have shared in the readings with my collaborative team.
I am excited to give back to the math education community through NCSM. I bring more than 25 years of experience as a classroom teacher, an enthusiasm for learning, openness to new ideas, and a fervent belief that working together leads to a better learning experience for all of us to my role in NCSM.
View Full Calendar
Events Calendar for NCSM Membership, Deadlines, and Professional Learning Opportunities