Professional Learning Director
(2017-2019)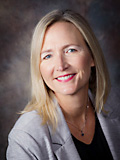 Jackie Palmquist
My leadership journey has been simple: I listened to the people around me, read as much as possible, attended conferences and collaborated at every opportunity.
Simple, but guided. I have been fortunate to teach in Illinois surrounded by excellent math leaders. I had great mentors who urged me to get involved in local, state and national math organizations and ultimately attend my first NCSM. They invited conversations, introduced me to other leaders like Cathy Seely and Tim Kanold, guided me to follow through by reading position papers and The PRIME Leadership framework, and taught me how to use the NCSM's resources to improve my abilities to lead at a local level.
During a progressive time of change in math education, I am excited to use the tools and organization of NCSM to help energize and mentor math leaders to create change in the teaching and learning of mathematics in our country.
In my role as Co-Professional Learning Director, I hope to become a mentor to many, collaborate with math leaders, and make the resources and connections of NCSM accessible not only to administrators and district leaders, but teachers as well. Teachers are at the heart of it all and NCSM can support amazing leadership growth that ultimately improves math education for the one group that matters most…our students.
I was encouraged to join NCSM by the leaders of my state organizations.Shout out to Illinois! One conference was all it took for me to become inspired and energized by the people, the resources, the networking and the building of my own understanding of true mathematics leadership. I am supercharged every time I attend an NCSM event. Being a member of NCSM has been transformative to my role as a leader in the K-12 District in which I am both a parent and leader, as well as inspiring my participation in local math leadership organizations. Ultimately, the relationships with other math passionate friends I have built while attending NCSM events will continue to inspire and encourage me to continue to grow, as well as reach out and bring on as many more teacher leaders. Serving on the board of NCSM will allow me to continue to grow and have an opportunity to serve an organization that is so much to so many, but mostly importantly dedicated to improving math education for every student.