"Humor and thought is the humanizing conduit between the mind and the spirit of the heart"- Carey Bolster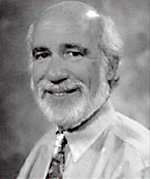 Carey Bolster, NCSM President from 1993 to 1995, passed away peacefully at his home in Dunedin, Florida, on July 1, 2022, at age 85. Bolster served as a mathematics teacher, leader, and coordinator for  Baltimore County Public Schools in Maryland. In 2006, he earned the distinction of being the first mathematics leader to receive both the NCSM Ross Taylor/Glenn Gilbert National Leadership Award and the NCTM Lifetime Achievement Award in the same year. Bolster also served as NCSM's Vice President from 1988-1990.
Being a national mathematics leader in the 1990s, Bolster recognized the power of technology to enhance professional learning and mathematics teaching and learning. He harnessed this power to create online professional networks for mathematics educators and leaders in Maryland and around the nation. As NCSM's president, he initiated an online network for NCSM members, launched NCSM down the path of creating powerful position papers, and broadened how NCSM defines mathematics leadership beyond the traditional role of a "mathematics supervisor" to include all layers of mathematics leadership. Bolster's legacy endures as these remain key pillars of how NCSM serves mathematics leaders around the United States, Canada, and the world.
Bolster was also known for a potent sense of humor. He did not demur from employing it as necessary to push the work forward. NCSM Past President Tim Kanold (2007 – 2009) recalled that
Carey received the NCSM Ross Taylor/Glenn Gilbert Award in Spring 2006. This was the meeting that I was about to become President-elect and Linda Gojak was President. I had known Carey for a while and knew he had a sense of humor. Yet, his acceptance speech of the award was perhaps the most serious message I had heard him deliver. He challenged every Mathematics Education leader in that luncheon room to "Mind The Gap" using the famous London Tube directions to keep from falling in the gap between the Train, and the platform. His influence in that message resulted in 3-4 years of our NCSM Summer Leadership Academy being aptly named "Stomping on the Gap". Carey had a way of driving his own commitment to reach every child, to demand no less from us.  
NCSM and NCTM Past President Linda Gojak remembers how instrumental Carey was in her own leadership journey.
I can't remember when I first met Carey.  I do recall he was a person that I admired for so long in NCTM and NCSM.  When he had a session at a conference he was always on my "must attend" list!  Back in the day, early in my career, he had an incredible influence on me and helped to make me the best teacher I could be, and later the best leader I could be.

Carey invited me to be one of the facilitators in the initial launch of Mathline.  I was so honored.  I remember a meeting in DC when we were all invited to his home for a cookout.  When he drove us back to our hotel,  he had us all singing along with the radio on the entire ride back! He had such a gift for bringing a group together and making everyone feel important.  
Like equity, leadership is a journey. My friend NCTM Past President Cathy Seeley taught me that an important element of leadership is always looking for the next group of leaders and bringing them up and along the journey with you. Sometimes I think of leadership as a relay race where leaders run one leg of the race then pass the baton to the next leader. When I read Linda's story, I was reminded of the leadership relay. Carey Bolster influenced her to become a strong leader. In turn, she influenced me in my own leadership journey. It is through this relay that the legacy of the leaders who came before us lives on in our own work and leadership.