Affiliate Chair
(2013-2015)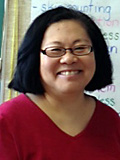 Carol Matsumoto
Consultant
After just completing my three year term as the regional director for Canada I have the honour of being appointed the Affiliates Chair.
I will be taking over from Cheryl Avalos who was the first chair for this important initiative -NCSM Affiliates. I will continue working on this important job and thank Cheryl for all her hard work.
My job will be to communicate with the affiliates and to encourage mathematics education organizations to have a direct connection with NCSM by becoming affiliates.
Please consider this opportunity and feel free to contact me. I look forward for this opportunity to communicate with the present and potential NCSM affiliates.
I attended my first NCSM conference in Boston in 1995. I was going to the NCTM conference because I was our affiliate's delegate to the Delegates Assembly. Our past president suggested that I go early and attend the NCSM conference too. It was a valuable experience - not only for the chance to get a sense of the layout of the buildings but most importantly the informative NCSM sessions.
I have attended most NCSM conferences since then and have found rewarding experiences volunteering (both at the conferences and on committees) and meeting other NCSM members.