Sponsor Liaison
(2013-2015)
---
Address
Wicomico County Public Schools
101 Long Ave
Salisbury, Maryland 21804
Phone
(410) 677-4434
Fax
(410) 677-4406
Email

---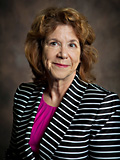 Bonnie H. Ennis, Ed.D
Mathematics Coordinator, Prek-8
Wicomico County Public Schools
Salisbury, Maryland
I am a long term member of NCSM and I have enjoyed the many benefits membership in such a prestigious organization offers. As the coordinator of mathematics for a small school district I have found the professional development opportunities and print resources offered by NCSM invaluable. I am excited to be embarking on this new endeavor as the Sponsor Partner Liaison and I am looking forward to providing a meaningful contribution.
I am a veteran of 23 years as a classroom teacher in grades 4-6. The last ten years of my classroom experience were devoted to teaching mathematics. Upon leaving the classroom, I spent three years as a mentor and coach for new teachers in our district. In 2002, I became the Coordinator of Mathematics, Pre-k - 8 for our district. It was at that time I joined NCSM and attended my first annual conference. I welcomed the support that NCSM offered as I worked to articulate the district's mathematics curriculum and provide professional development for our teachers. In my role as a district leader those resources offered have proven invaluable. We now have ten professional development coaches devoted to helping our teachers understand and implement the curriculum.
I have held state offices in both our Maryland Council of Teachers of Mathematics and Maryland Supervisors of Mathematics. In addition, I am also an adjunct instructor at Salisbury University in the Education Department. Teaching future teachers how to teach mathematics has been a rewarding experience and I always pass on the importance of joining professional organizations that offer support and expertise.
I have attended almost every NCSM annual conference since that first one and I always come away feeling energized and full of ideas to bring back to our teachers.