55th NCSM Annual Conference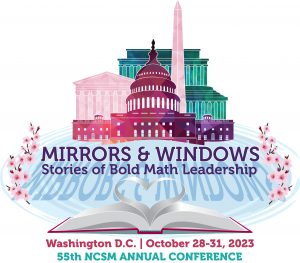 Annual NCSM Celebration Annual Conference
October 28 – 31, 2023
NCSM celebrates its 55th Annual Conference, continuing our dedication to the life-long learning of bold mathematics education leaders. NCSM is committed to supporting leaders' work in inspiring high-quality mathematics teaching and learning every day for each and every learner.
Join us in Washington, DC where we will share stories of bold mathematics leadership.  We will be creating Mirrors & Windows into stories from our mathematics leaders and the work they are doing to support equitable mathematics instruction. 
The Conference at a Glance document provides a helpful overview of the conference schedule.
Strands
Stories of Advocacy:
Proposals in this strand will focus on the development of

mathematics leaders as change agents

(at the classroom, building/site, district or state/provincial level) focused on defining and developing a shared vision for high-quality mathematics teaching and learning.  This strand focuses on curriculum and instructional design, assessment, and organizational structures as well as managing change across stakeholder groups. 

What stories of advocacy in mathematics do you have to share?  

How do you remove barriers and provide all students with access to a rigorous, meaningful curriculum taught by highly effective teachers?    

How do you help each and every student to build mathematical understanding that will improve their lives and improve the world?  

How do you ensure that organizational structures, time and resource allocation, and systemic support are aligned, intentional and equitable?  
Stories of Empowerment:
Proposals in this strand will focus on the

empowerment of students, teacher leaders, coaches and families

to support equitable student outcomes for each and every learner.  Stories of empowerment are focused on equitable mathematics practices and building student identity, agency and efficacy.

How do you empower students in the mathematics classroom? 

How do you empower teacher leaders and coaches through developing a deep understanding of mathematics standards, processes and assessment practices to ensure equitable student outcomes for each and every learner?  

How do you empower coaches to look at classrooms through an equity lens and empower them to engage in coaching conversations around equitable outcomes for students? 

How do you partner with families and leverage their voices when making instructional decisions?
Stories of Redesigning Mathematics Instruction:
Proposals in this strand will focus on the ways BOLD math leaders have reimagined mathematics classrooms to design mathematics instruction focused on

students and their culture

.  This could include instructional practices, task selection, classroom community or systemic changes that have emerged that have resulted in greater student outcomes for students and their families. 

How are you reimagining mathematics instruction and/or assessment across a school or district? 

How are you leveraging the mathematics teaching practices or redesigning instruction?

How do you support new and emerging mathematics teachers and teacher leaders in redesigning classroom instruction which supports all learners?  

How do you redesign classrooms and/or schools to include a focus on student identity, agency, belonging?
Stories Yet to be Told:
Proposals in this strand are focused on innovative new ideas from students, teachers, families or research that you have implemented in your work.  This strand is focused on

bold mathematics leaders

who have utilized research from other areas and applied it to mathematics to create equitable student outcomes. 

What innovative practices have led to greater student outcomes?  

What innovative practices have supported teachers or coaches to learn and grow?

What stories can you share from your classroom or district about impacts on students and next steps for mathematics education?   

What are leaders outside of the mathematics education field doing that can be applied to mathematics for all of us to learn and grow? 
#whatsyourmathstory
Social Media Badges
NCSM encourages you to download a "Join Me" badge to your blog or share via your favorite social media platform. Open the image by clicking on the badge, right click and select save image in order to save the badge to add it to your blog or social media page.
Important Dates: 
February 28, 2023: Lead presenters will be notified by this date about the status of each proposal.
March 15, 2023: Deadline for lead presenters to confirm details for accepted sessions.
Karen Spalding, Conference Coordinator, 2021-2023
Georgina Rivera, Conference Chair, 2022-2023
Future Conferences
September 23-25, 2024 – Chicago, Illinois
October 13-15, 2025 – Atlanta, Georgia