I am thankful for each past and current member of NCSM: Leadership in Mathematics Education, the premier mathematics leadership organization. 2021, like the year before it, brought us a new set of challenges. Yet, we came together as NCSM members and accomplished so much. So let's take a moment to celebrate some of our accomplishments!
Traditionally, NCSM hosts a business meeting for all members at our Annual Conference. Well, as you know, we were not able to meet in Chicago in 2020 or in Atlanta in 2021. So last year, NCSM President Mona Toncheff pioneered the NCSM Annual Report so that we could present information to our members and the public. It was so well received, we decided to do that again this year.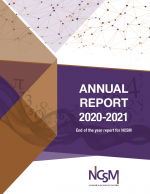 NCSM is proud to release the 2020-2021 NCSM Annual Report for each member to read. In our annual report, you will learn more about the work of the board – from our newest publications, current membership information, regional director and treasurer reports, to a preview of leadership events coming in 2022. 
NCSM continues to respond to mathematics leaders' needs during the COVID-19 pandemic and strives to build a better and more equitable education system for each and every child. We look forward to a shift from a pandemic world to an endemic world while we work together to create a better, more just "new normal."