54th NCSM Annual Conference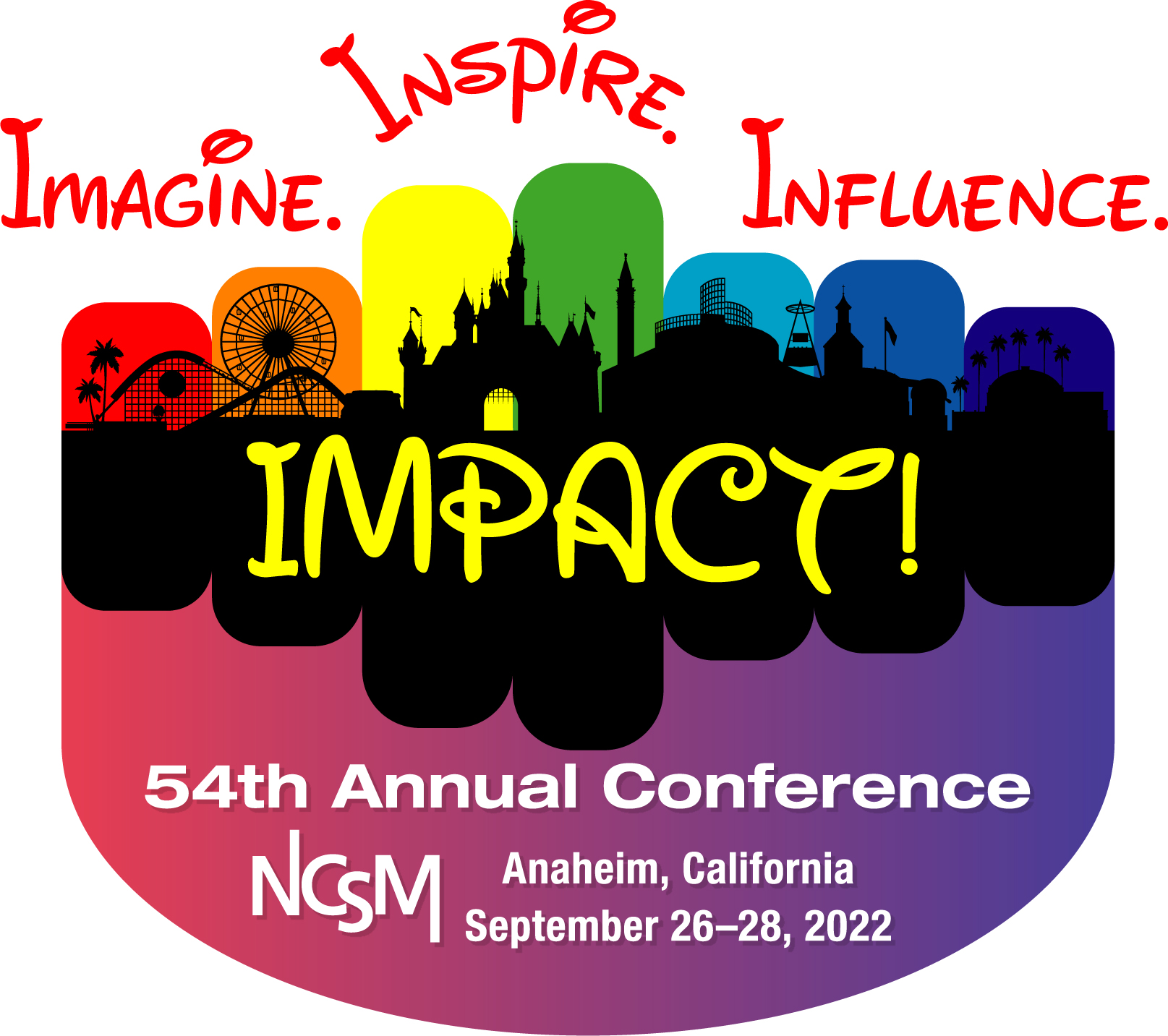 Imagine

.

Inspire

.

Influence

.
Make an
Impact!
September 26-28, 2022
7:00 am Monday – 5:00 pm Wednesday
Anaheim, California
NCSM is happy to announce the 54th NCSM Annual Conference! Whether you are a first-timer or a veteran of NCSM annual conferences, join us for three exciting days in Anaheim, California, focused on important issues for leaders in mathematics education.
Take this opportunity to enlarge your network of colleagues who can assist you in building and supporting your local mathematics program and to meet new friends who share your interests and love of mathematics education. Become a part of NCSM, the mathematics leadership organization for educational leaders that provides professional learning opportunities to support and sustain improved student achievement
Plan now to make the trip to Anaheim where exciting opportunities await you at the 2022 Annual Conference!
Strands
Theme
The theme of the 2022 NCSM Annual Conference is: Imagine. Inspire. Influence. Make an IMPACT!
Conference Program Strand Descriptions
The four strands to be featured at this exciting and educational NCSM Annual Conference are:
1. Imagine a Future of Powerful Mathematics Education:  Imagine the possibilities and innovations that make a difference in powerful mathematics teaching and learning! How do we provide bold leadership at all levels that develops and commits to a shared vision for teaching and learning for each and every learner, helps to create culturally responsive spaces, and provides the support necessary for risk-taking? 
Proposals in this strand focus on visionary ideas, research, and practices that lead us toward equitable structures and systems fostering success for all teachers and students. Powerful learning moments are those that resonate with teachers and students and stand out as important moments in teacher and student learning.
2. Inspire Colleagues Through Bold Leadership: In what ways do we inspire colleagues and those we lead to reflect the NCSM framework for leadership?  
Proposals in this strand showcase how bold leaders advocate for high-quality teaching and learning, design structures for equitable access, empower and nurture a culture of productive professionalism, and monitor actions and results for continuous improvement.
3. Influence Educators Through Coaching:  How do we use our influence to create meaningful learning experiences? 
Proposals in this strand focus on the coach's role in supporting all aspects of the teaching and learning of mathematics. Proposals should identify which of the NCSM essential coaching actions will be addressed that support and empower teachers to increase student learning, create positive student identities, and develop confident users of mathematics.
4. Impact Systems for Equity and Social Justice: What systems need to be adapted, adjusted, or dismantled to create authentic learning environments for both students and adults? In what ways can we use bold leadership to impact mathematics learning for all students with an emphasis on equity?
Proposals in this strand focus on sharing experiences and actions that can be taken to impact and improve equitable access to high-quality mathematics and implementing instructional strategies through a social justice lens.
Hotel Information
Anaheim Marriott, 700 West Convention Way, Anaheim, California 92802