Thank you for being a part of NCSM: Leadership in Mathematics Education, the premier mathematics leadership organization. As we navigate new and recurring challenges this year, it is time to pause and celebrate the work that has been accomplished.
For many years, NCSM has hosted a business meeting at its annual conference. With the cancellation of the 2020 annual conference in Chicago last March, there was not an opportunity for members to learn more about the important work of the organization.
Therefore, NCSM is proud to release the 2019-2020 NCSM Annual Report for each member to read. In our annual report, you will learn more about the work of the board – from our newest publications, current membership information, regional director and treasurer reports, to a preview of leadership events coming in 2021.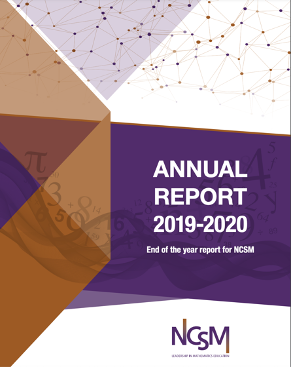 The recent events of 2020 show NCSM's mission and vision are more important than ever. As such, NCSM continues to respond to mathematics leaders' needs during the COVID-19 pandemic and strives to build a better and more equitable education system for each and every child.
Join me in celebrating the work of the NCSM organization. Know you are a valued member of an organization dedicated to supporting mathematics leaders and ensuring the mathematics learning of every student. I look forward to another strong year of learning and growing together as members of NCSM.