News from the Western 1 Region
Denise Trakas, Western 1 Regional Director
Summer 2018
NCSM's 50th Anniversary kicked off with Western 1 strongly represented through participation in the Caucus and with the awarding of two certificates of affiliation. During the April 2018 Caucasus, region members gathered to discuss hot topics in the areas of coaching, assessing member needs at various system levels and building partnerships.
Congratulations to our two new NCSM Affiliates- Colorado Math Leaders (CML) and the Nevada Mathematics Education Leadership Council (N-MELC). These two affiliates join our Western 1 flagship affiliate the Arizona Math Leaders.
In addition to the Regional Director, each state or region also has a Regional Team Leader. Please join me in welcoming Lynn Trell as the Nevada Regional Team Leader. Lynn currently works for Clark County School District in Las Vegas Nevada as the K-12 Mathematics Coordinator. Lynn joins an amazing team of leaders who work to advocate and communicate for you, our members: Samantha Wuttig (Alaska), Kimberly Rimbey (Arizona), Kelly Shank and Annette Zook (Colorado), Cory Bennett (Idaho), Lisa Scott (Montana), Shannon Ference (Utah) and Kate Kriss (Wyoming). Please feel free to reach out to your Regional Team Leader to share events, get involved or request support.
We have several upcoming events in the Western 1 Region. We look forward to seeing you at these and our summer NCSM events.
Arizona: Show Me the Math! Conference (Friday, September 21, 2018 – Annual Conference in Tempe, AZ; Leadership strand at the AATM conference on Saturday, September 22, 2018) in Tempe, AZ.
Colorado: Captiv8! Colorado Council of Teachers of Mathematics Annual Conference will be hosted on August 2nd/3rd, 2018. This will immediately follow the Summer Leadership Institute.
Idaho
Supporting Productive Struggle: Lesson Study Conference (June 12th/13th, 2018)
Connections! STEM Conference (October 5th/6th, 2018)
Montana: The Montana Council of Teachers of Mathematics is hosting the Montana Math Meet (MCubed) on June 27th/28th, 2018.
Nevada:
Utah: Utah Council of Teachers of Mathematics will host their Annual Conference on October 12th/13th, 2018. Keynote is Robert Kaplinsky. Unfortunately, this conflicts with our Fall Board Meeting.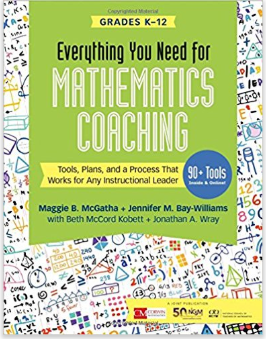 Looking to engage in some summer reading? Consider picking up a copy of Everything You Need for Mathematics Coaching: Tools, Plans, and a Process That Works for Any Instructional Leader (K-12).
Then share your story of your use and success with your Regional Team Leader!