News from the Western 2 Region
Kathlan Latimer, Western 2 Regional Director
Spring 2019
Greetings NCSM Western 2 Region members and friends,
Happy spring! This season will be extra special as NCSM is coming to Western Region 2:
Making Waves with Effective Mathematics Leaders
At the Making Waves with Effective Mathematics Leaders conference, you can anticipate many opportunities to focus on important issues for leaders in mathematics education and to network with educational professionals from across the country:
Dr. Luis Cruz, the 2019 keynote speaker, will provide the keynote address, "Recognizing and Overcoming the Barriers to Ensuring ALL Students Learn Mathematics."
Extend your conference experience. Register for one of two pre-conference workshops on Sunday, March 31, 2019, from 1:00-5:00 pm. The offerings are NCSM Essential Actions for Mathematics Coaching and Practical Leadership: How to Leverage Learning Science to Achieve Equity. If you have already registered, know that you can still add these workshops, if space is available.
Do plan to attend the Western Region 2 Caucus on Tuesday, April 2, 2019, from 3:30 to 4:15 pm in Pacific 19 of the Marriott Marquis San Diego Marina Hotel. Network with other members in the Western Region 2.
Do make plans not only to join us, but to help make the conference a success. Volunteer! Receive a "Making Waves through Effective Mathematics Leadership" T-shirt for your service. Sign up to volunteer at the 2019 NCSM Conference in San Diego.
ANOTHER OPPORTUNITY TO SERVE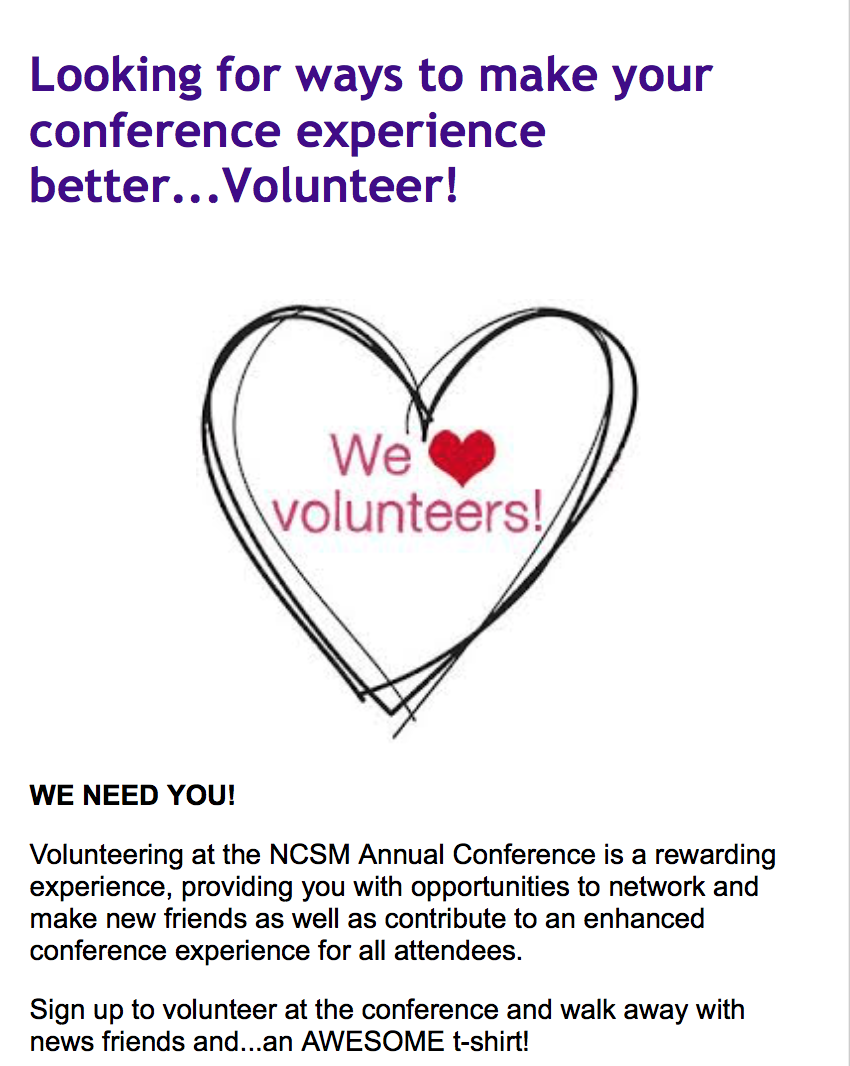 Nominations for available 2019 NCSM elected positions will open at the end of the annual meeting, April 3, 2019, and will close on May 15, 2019. The positions available for nominations this spring are listed below:
President Elect
Second Vice President
Regional Director, Central 2 (Iowa, Kansas, Minnesota, Missouri, Nebraska, North Dakota, South Dakota, Wisconsin)
Regional Director, Eastern 2 (Delaware, District of Columbia, Maryland, New Jersey, Pennsylvania, West Virginia)
Regional Director, Western 2 (California, Far West- American Samoa, Federated States- Guam, Marshall Islands, Micronesia, Northern Mariana Island, Palau Islands), Hawaii, Military AP: AFO/FPO, Oregon, Washington
Note that a new Western Region 2 Director will be elected. If you have questions about the position, ask! Descriptions of the elected positions may be found there. If you wish to make a nomination, please be sure that your nominee is an eligible member who is interested in running. Members eligible to be placed in nomination must be in good standing as of the 15th of May one year prior to the nominations deadline.
UPCOMING EVENTS IN THE REGION:
California Mathematics Council, Northern Section
Online Book Chats, January -March 2019:
These will be slow chats on Twitter and through member circles featuring:
Routines for Reasoning: Fostering the Mathematical Practices in All Students by Grace Kelemanik, Amy Lucenta, and Susan Janssen Creighton
Beyond Answers: Exploring Mathematical Practices with Young Children by Mike Flynn
For more information: cmc-math.org
Oregon Council of Teachers of Mathematics
Oregon Math Leaders Conference
Theme: IDEAs – Inclusion, Diversity, Equity, Access
August 2-3, 2019
Linfield College, McMinnville, Oregon
Registration opens March 15 and closes July 16, 2019.
For more information: www.octm.org
LOOKING AHEAD: SUMMER WITH NCSM
The 2019 Summer Leadership Academy will be held in Madison, Wisconsin, on July 22-24, 2019. The theme is Building Leadership: Leveraging Coaching.
Equip your mathematics leaders to develop a shared vision for mathematics instruction, utilize high quality coaching, leverage powerful teaching strategies and monitor student learning to ensure learning for all.
If you lead as a teacher, coach, coach of coaches, curricular team lead, administrator, and professors of teacher leaders, this is the professional learning for you.
Bring your team, build your professional learning network working side by side using the wealth of materials provided to develop a strategic plan personalized to your coaching.
Registration includes the following resources:
NCSM Essential Actions: Coaching in Mathematics Education (Released April 2019)
NCSM Essential Actions: Instructional Leadership in Mathematics Education (Released April 2019)
Everything You Need for Mathematics Coaching: Tools, Plans, and a Process That Works for Any Instructional Leader, Grades K-12. Thousand Oaks, CA: Corwin
Registration for the academy will open soon.
Springtime in San Diego. Let's make some waves!