News from the Eastern 2 Region
Sue Vohrer, Eastern 2 Regional Director
Fall 2019
Reflections on … New Ways of Seeing Familiar Landscapes. Have you ever looked at a landscape painting or picture and thought about where it takes you? How the picture may conjure ideas or "what if?' Take a look at the landscapes below. What do you notice? What do you wonder?

In the first photograph, by American photographer Ansel Adams, I noticed that the bridge seemed to move my eyes across it into the fog. What lay beyond the fog? In the second painting, by American artist Thomas Benton Hart, my eyes followed the road – showing a movement of sorts. Where did it go? In the last picture, by artists Cristo and Jean Claude, I wondered why so many umbrellas? And where did they go? Landscapes give pause to think, and moves the viewer's eyes from the foreground to the background.
In the same way, we can use this as a metaphor for thinking about our personal visions for mathematics. Just as the artist provides a way moving forward in the landscape, a vision should provide a way of moving our thinking about mathematics forward by providing bold leadership. A vision answers the questions – where do I want to go in the future? How will my (teaching, curriculum, instructional practices, etc.) look in the future? How can I craft a statement that will guide my actions over the next year, 3 years…
As you begin a new school year, it is a perfect time to think about your vision for your mathematics landscape. How do you communicate where you are now and what the future holds?
New Eastern Region 2 Director Election
We will be electing a new Eastern Region 2 Director this fall who will take office in April, 2020. Check out the candidate statements. Voting is open September 15- October 15.
Don't Miss These BOLD Leadership Opportunities!

Have one day to spare for your professional growth? Spend the day with NCSM! The fall seminars will focus on supporting mathematics leaders to become agents of change and on improving student achievement through the framework for leadership in mathematics instruction and coaching. Join us in Tennessee or in Iowa: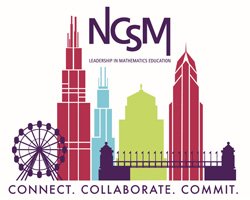 Registration Information
Online registration is now open for the conference. Early Bird Rate: 8/21/19 – 10/30/19
Hotel Information
Hotel reservations are now available as well.
Other Eastern Region 2 Events
Maryland Council of Teachers of Mathematics
October 18 Dundalk High School
Association of Math Teachers of New Jersey
Annual Two Day Conference October 25-26
Crowne Plaza Princeton Conference Center
Your Eastern Region 2 Team Leaders
We are so appreciative of having these dedicated team leaders working in your state! Feel free to contact them (or me!) if you need information or have questions.
Do you know someone who deserves an award? NCSM offers several awards for mathematics leaders. In addition, the Iris Carl Travel Grant supports travel to the NCSM Annual Conference.
The NCSM Journal of Mathematics Education Leadership is published twice yearly. Print copies are mailed to members only; the journal is not available through subscription. Issues may be viewed on or downloaded from the website, and past issues are archived on the website. The journal addresses issues of leadership in mathematics education and reflecting a broad spectrum of formal and informal leadership at all levels. Have a comment on or reaction to an article? Readers are invited to submit letters to the editor regarding any of the articles published in the journal.
Are you following us? We are @MathEdLeaders. Follow us on Twitter and like us on Facebook.
Sign up for eNews, a brief and informative electronic communiqué, for anyone interested in receiving updates and tips about opportunities and resources.
Enjoy the new school year!
Sue