News from the Western 2 Region
Kathlan Latimer, Western 2 Regional Director
Spring 2018
Happy spring, Western Region 2 NCSM members and friends! Hopefully we can begin to enjoy all the good things this season brings as well as take advantages of opportunities that will help the year continue to be a successful one.
APRIL IN DC WITH NCSM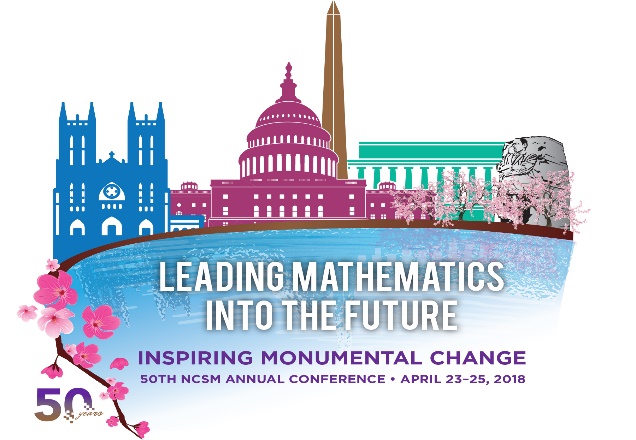 NCSM is 50 years strong! Join us in the celebration of our accomplishments in promoting and supporting mathematics education leadership at the annual conference April 23-25, 2018, at the Walter E. Washington Convention Center in Washington, D.C.
The 2018 conference will include over 250 sessions, and this year two pre-conference sessions will be offered Sunday afternoon. Our keynote speaker, Dr. Pedro Noguera, is not to be missed. Speaking on the topic, "Equity and Deeper Learning in Mathematics", Dr. Noguera will delve into ways of supporting and cultivating effective teaching in schools.
SOMETHING NEW! We are excited to announce a special day for administrators. Invite your administrators to join us in D.C. on Wednesday, April 25, 2018, for sessions designed to increase awareness around mathematics and how to build a strong team. NCSM recognizes the important leadership role principals play and is hosting its inaugural year of the PRIMEd Principal: Champions of Mathematics Series, a conference within a conference to target the site-level leader interests. Highlighted sessions have been selected for the principal who may not have the time for a three-day conference for mathematics leaders, but is looking to better understand how to support their students and teachers with mathematics teaching and learning. Register online for this inaugural event.
Come learn with us and stay to play. There is much to see and do in our nation's capital. Check out some Math on the National Mall.
WAYS TO BE INVOLVED WITH NCSM
There are many ways to connect with NCSM, both at the conference and beyond.
Be a conference volunteer
Volunteers are needed to assist in many at the conference. Volunteering at the NCSM Annual Conference is a rewarding experience, providing you with opportunities to network and make new friends as well as contribute to an enhanced conference experience for all attendees.
Attend the regional caucus
Attend the regional meeting in D.C. The caucuses are set for Tuesday afternoon, 3:30-4:15 pm. Meet others from Western 2 states and get up-to-date information on NCSM. Let's make sure all of our states are represented.
Acknowledge student achievement
A reminder: NCSM provides student recognition certificates. The Mathematics Student Recognition Program was created to provide a means for honoring students for outstanding achievement in the study of mathematics. NCSM members may obtain award certificates by contacting NCSM. More information may be obtained here.
Nominate a candidate for second vice president
Nominations are now open and close each year on May 15. Members eligible to be placed in nomination must be in good standing as of May 15, one year prior to the nominations deadline. More information may be found on the website (mathedleadership.org) under the Elections tab.
COMING EVENTS IN & AROUND OUR REGION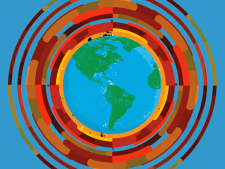 TODOS: Mathematics for ALL Conference
"It's ALL about ALL Students Learning Quality Mathematics: Advocating for Equity and Social Justice"
June 21-23, 2018, Phoenix, Arizona metro area.
Pre-conference session for leaders offered on Thursday, June 21, 2018.
NCSM Summer Leadership Academy: An opportunity to learn and grow
This year the NCSM Summer Leadership Academy is closer to home. Join us in Colorado as we explore and extend our understanding of effective coaching. The academy, "Building Mathematics Leadership: Coaching," will be held at a location near the Denver Airport from July 30 to August 1, 2018.

If you are ready to make a real difference in the teaching and learning of mathematics or if your district/school has a coaching program or is thinking about starting a coaching program, join NCSM and its coaching team for this informative and instructive event. Participants will be among the first to receive a copy of NCSM's new coaching book, NCSM: Themes and Imperatives for Coaching (working title). Look for registration information on the website and in upcoming eNews.
Extended Learning Opportunity: An opportunity to read, study, and reflect
You are invited to join with other educators from around the country to continue the work on the Collective Call to Action, From Awareness to Action: Equity and Social Justice in Mathematics Education. Readings and reflection questions are provided by partner groups as a focus for study and reflection as you contemplate the actions you will take as you continue your equity walk. The one listed below covers the spring and early summer; others continue until January 2019 and may be found here.
---
May – June 2018
Webinar July 2018, TODOS: Mathematics for ALL
Focused article from Teaching for Excellence and Equity in Mathematics (TEEM)7, Special Issue: Mathematics Education Through the Lens of Social Justice
)
Chao & Jones (2016). That's not fair and why: Developing social justice activists in PreK. In J. Aguirre & M. Civil (Eds.) Teaching Excellence and Equity in Mathematics: Special issue on social justice. 7(1) 15-21.
Reflection Questions:
8. How do we change the paradigm of what mathematics is and how it should be learned from its current institutional form to one that utilizes the mathematics of people and their communities and ties mathematics to the world?
9. Which of the examples of social justice and mathematics tasks enacted with students that were written about in this journal most resonates with you? Why?
---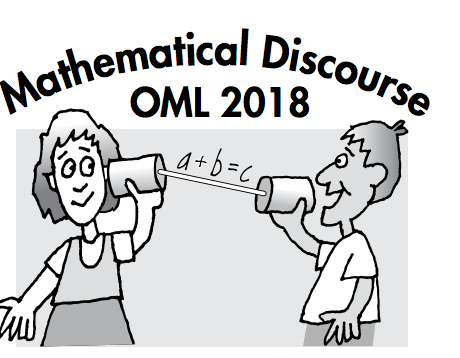 Oregon Math Leaders Summer Conference
Mathematical Discourse: Communicating to Enhance
the Student-Centered Math Experience
Friday, August 3 – Saturday, August 4, 2018
Linfield College
McMinnville, Oregon
www.octm.org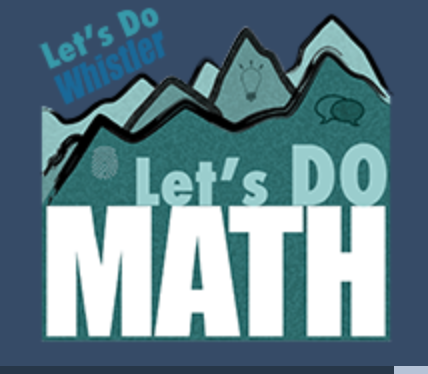 Northwest Mathematics Conference
Registration is open
October 18-20, 2018
Whistler, British Columbia, Canada.
Speaker proposals are due by May 4, 2018.
For more information: www.bcamt.ca/nw2018
Consider submitting speaker proposals for these fall events as well:
California Mathematics Council Southern Section Conference
59th Annual Mathematics Conference
November 2-3, 2018
Palm Springs, California
For more information: www.cmc-south.org/conference.html
California Mathematics Council Northern Section Conference
61st Conference at Asilomar: Student Voice: Let's Hear It!
November 30 – December 2, 2018
Pacific Grove, California
For more information: cmc-math.org/cmc-north
If there are events, programs, or initiatives that you would like to share with others in the region, let me know.
See you in D.C.
Kathlan Latimer
Western Region 2 Director