Calendar of Events
The Calendar of Events identifies conferences, events, and meetings that occur regionally and nationally. Some are held in conjunction with NCTM. Some are the result of collaborations with other organizations. To view the details of an event, click on the colored title of the event.
Key: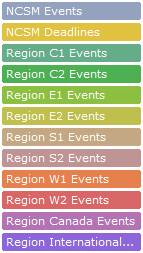 All NCSM events are displayed on the calender. To select or de-select which specific calendars you would like to view, click the drop-down arrow to the right of the Agenda tab.
This will bring up a menu of checkboxes, from which you may select your preferred calendar views, or de-select those you do not wish to see.
Note: when the web page is re-loaded, all events will be displayed.
NCSM designs a variety of professional development opportunities throughout the year. These events provide settings for leaders in mathematics education to study a variety of perspectives:
to learn about best practices
to examine research and trends in mathematics education and leadership
to promote learning among leaders at all levels
to support each other
to plan together
to network together
We look forward to seeing you at an event coming soon.
Feeds
RSS or iCalendar - Use these formats to view the calendar from other applications. You can click these icons to subscribe to the calendar feed in Google Calendar, access the calendar from feed readers (like Google Reader) as well as products that support the iCalendar format (like Microsoft Outlook or Apple iCal).


NCSM Sponsored Events


Deadlines and Reminders


Region C1 Events
(Illinois, Indiana, Kentucky, Michigan, Ohio)


Region C2 Events
(Iowa, Kansas, Minnesota, Missouri, Nebraska, North Dakota, South Dakota, Wisconsin)


Region E1 Events
(Connecticut, Maine, Massachusetts, Military AE: APO/FPO, New Hampshire, New York, Rhode Island, Vermont)


Region E2 Events
(Delaware, District of Columbia, Maryland, New Jersey, Pennsylvania, West Virginia)


Region S1 Events
(Bermuda, Florida, Georgia, Military AA: APO/FPO, Puerto Rico, North Carolina, South Carolina, Virgin Islands, Virginia)


Region S2 Events
(Alabama, Arkansas, Louisiana, Mississippi, Oklahoma, Tennessee, Texas)


Region W1 Events
(Alaska, Arizona, Colorado, Idaho, Montana, Nevada, New Mexico, Utah, Wyoming)


Region W2 Events
(California, Far West: American Samoa, Federated States, Hawaii, Military AP: AFO/FPO, Oregon, Washington)


Region Canada Events
(Alberta, British Columbia, Manitoba, New Brunswick, Newfoundland, Northwest Territories, Nova Scotia, Nunavut Territory, Ontario, Prince Edward Island, Quebec, Saskatchewan, Yukon Territory)


Region International Events