2021 Fall Virtual Experiences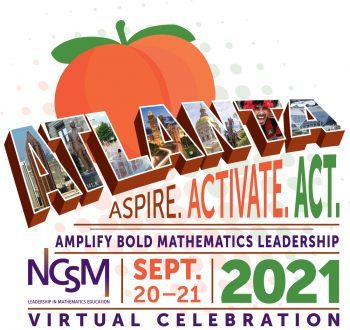 Aspire. Activate. Act.
Amplify Bold Mathematics Leadership
September 20-22, 2021
Sunday – Monday and Beyond
Virtual
NCSM is happy to announce the 53rd NCSM Virtual Conference Experience! Take this opportunity to enlarge your network of colleagues who can assist you in building and supporting your local mathematics program and to meet new friends virtually who share your interests and love of mathematics education. Become a part of NCSM, the mathematics leadership organization for educational leaders that provides professional learning opportunities to support and sustain improved student achievement.
Even though the in-person Atlanta Conference events have been canceled, NCSM is proud to announce three virtual experiences to  Aspire, Activate, and Act.
Virtual Experience #1
Virtual Pre-Conference Sessions 
Sunday, September 19, 2021 1:00-4:00 pm EDT
Enhance your NCSM conference learning experience by signing up to attend one of our virtual Sunday afternoon pre-conference sessions for leaders. These pre-conference sessions are a great way to kick off your conference experience, network with other leaders and take a deeper dive into our recent work and Essential Actions Series from NCSM.  For more information, visit the Pre-Conference section.

Virtual Experience #2
NCSM Virtual Celebration (*New Event*)
Monday, September 20, 2021 & Tuesday, September 21, 2021, 6:30-9:00 p.m. EDT
NCSM will now offer a virtual celebration on Monday, September 20, 2021 and Tuesday, September 21, 2021 to build connections among our NCSM community, celebrate awardees, and to host live sessions from featured, nationally renowned mathematics speakers.  
Participants will celebrate bold mathematics leadership with NCSM, hear from live keynote speakers, and will be able to select sessions to attend during the two evening events.  Participants will also have access to giveaways through social media participation, including books, memberships, and free registration to NCSM professional learning events. 
For this unique two-night celebration, NCSM is encouraging participants to gather with colleagues and friends for viewing parties for this special event.  For this event only, NCSM will offer an individual registration rate and a group rate.  Network within your community or within the larger NCSM community during this live event!  For more information, visit the Celebration tab
Virtual Experience #3
October 5, 2021-December 14, 2021 7:00 p.m. EDT
NCSM is pleased to announce a virtual conference learning experience, Beyond the Conference 2021. 
Beyond the Conference 2021 is the first ever opportunity to engage and network with your colleagues virtually after the conference to continue and deepen your mathematics leadership strategies and practices. You will have access to the on-demand sessions from the NCSM virtual celebration, as well as other pre-recorded sessions. The special bonus is, Beyond the Conference 2021 will include weekly live sessions during the 90-day viewing window to interact with highlighted speakers and your peers. NCSM prides itself on creating opportunities for mathematics leaders to connect with other leaders, and reflect on their current reality, in order to make intentional leadership actions to improve student learning for all. You will have the opportunity to ask questions and grapple with current mathematics leadership issues with other leaders on next steps for your BOLD math leadership journey.  
For questions, contact
Conference Coordinator, Ruth Harbin Miles,
Platinum Sponsor
Gold Sponsors
Silver Sponsor
Bronze Sponsor