News from the Western 1 Region
Sandie Gilliam, Western 1 Regional Director
Spring 2018
Greetings Western 1 NCSM members and friends. I hope this first quarter of 2018 has brought with it opportunities to learn more mathematics and to reach out and connect with both old and new colleagues.
THE UPCOMING NCSM CONFERENCE (April 23-25)
SOMETHING NEW! We are excited to announce a special day for administrators. Invite your administrators to join us in D.C. on Wednesday, April 25, 2018, for sessions designed to increase awareness around mathematics and how to build a strong team. NCSM recognizes the important leadership role principals play and is hosting its inaugural year of the PRIMEd Principal: Champions of Mathematics Series, a conference within a conference to target the site-level leader interests. Highlighted sessions have been selected for the principal who may not have the time for a three-day conference for mathematics leaders, but is looking to better understand how to support their students and teachers with mathematics teaching and learning. Register online for this inaugural event.
REGIONAL VISITS
It's been another busy winter for me, with regional visits to Arizona and New Mexico, as well as working with the other regional directors on team and conference planning.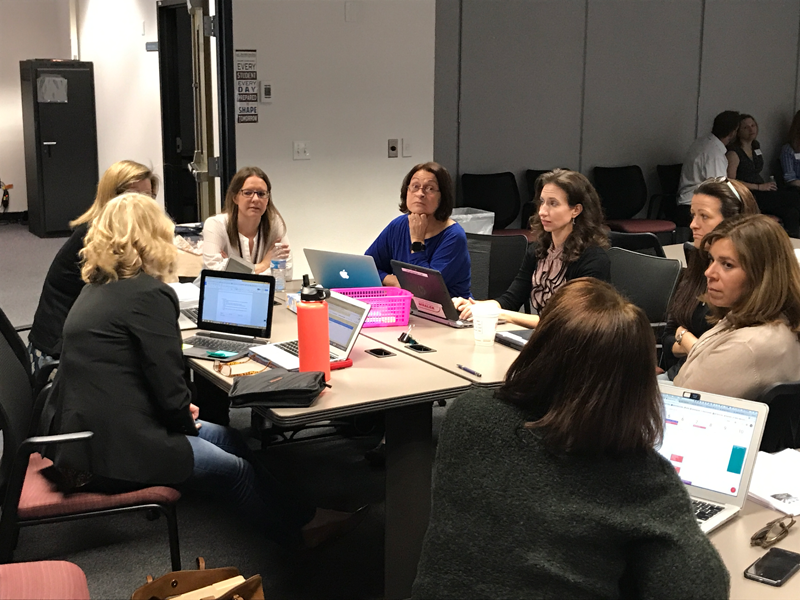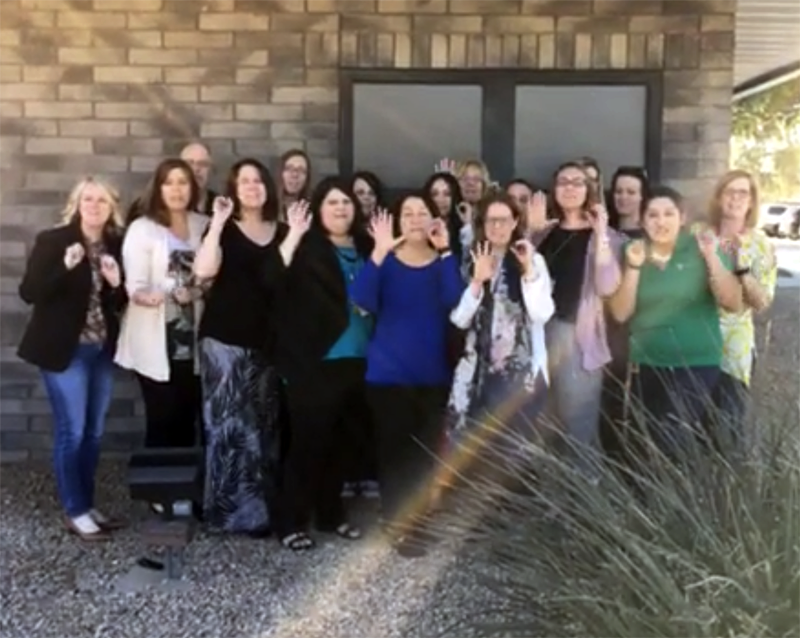 Arizona Math Leaders, the first NCSM affiliate in Western 1, held their February board meeting in Phoenix, followed by a "Lunch and Learn" event. After the lunch, sponsored by Math Solutions, attendees continued their yearly focus on problem solving. Towards the end, we all went outside to make our NCSM Happy 50th video, using Flipgrid! Arizona, you rock!!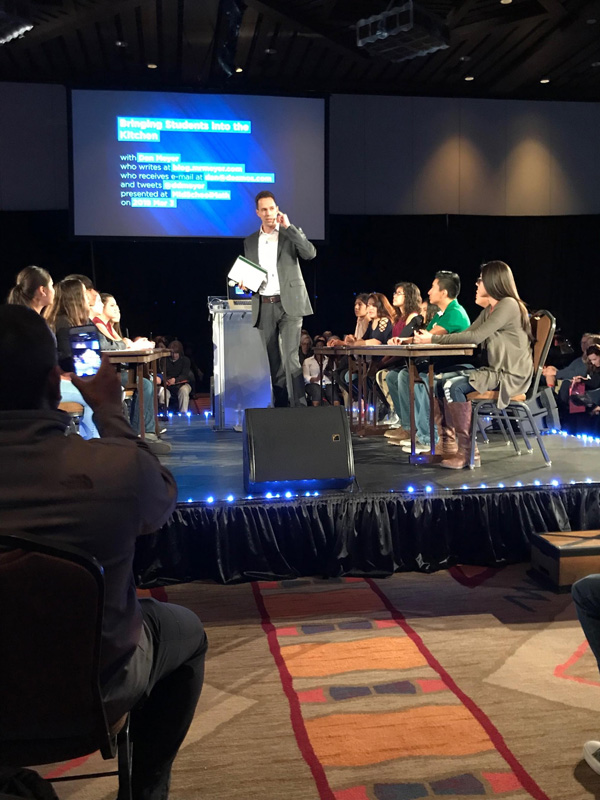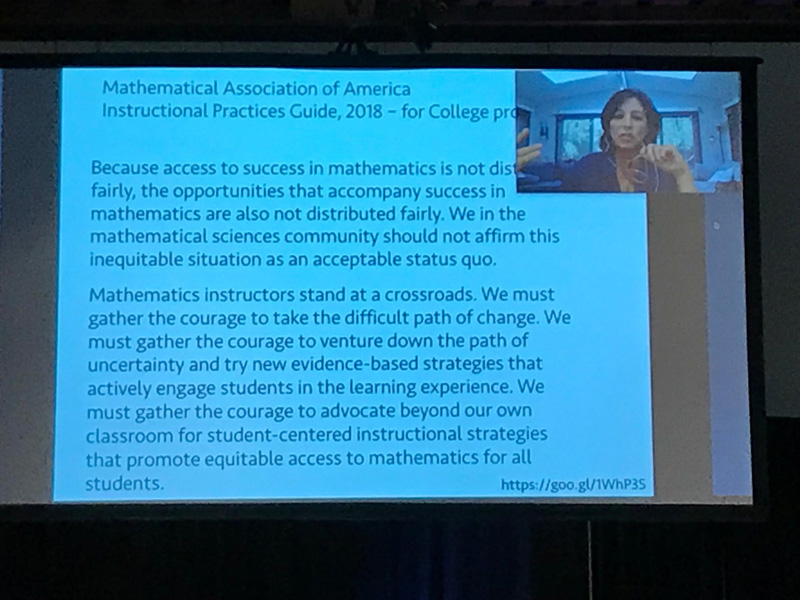 Then I was off to New Mexico early March to take part in the MidSchool Math National Conference. Located in Santa Fe each Spring, I met participants from all over the United States and Canada. Major speakers were Tracy Johnson Zager, Dan Meyer, Jo Boaler, and Steve Leinwand. Dan was joined by a small class of local students, who were explaining and then incrementally correcting their process to solution.
Jo, recovering from the flu, joined remotely from Stanford.
UPCOMING EVENTS (including summer)
July 30 – Aug 1: NCSM Summer Leadership Academy (this year in Denver, CO)

May 30-June 1 South Nevada Regional Professional Development Program (SNRPDP) Secondary Math Conference: Strategies for Success (North Las Vegas)
June 18-29 Wyoming Coaching Laboratory (WY-COLA) workshop (Laramie)

WY-COLA is a year-long intensive professional development experience for preservice teachers, in-service teacher leaders, aspiring instructional coaches, and instructional coaches. In this experience participants will observe teaching for the purpose of extending this observation into the study of both teaching and coaching. WY-COLA's three-part innovation model includes: (1) enriching pre-service teacher education, (2) developing school-university partnerships, and (3) elevating the craft of practicing professionals. Participants in this year-long professional development will actively observe teaching in real time as they examine deeply the complexities of the act of teaching. A summer school session with fifth grade students will be observed.

August 2-3 Colorado's CCTM Captiv8 Conference (University of Denver)
October 12-13 Utah's UCTM Conference (Salt Lake Valley)
HOT OFF THE PRESSES!
Western Region 1 has TWO new Affiliates. Colorado Mathematics Leaders (CML) and Nevada Mathematics Educational Leadership Council joined the growing list of NCSM affiliates as of March 1. Look for their pages soon on the Affiliate pages of the NCSM website.
CLOSING REMARKS
Wow, seems like just yesterday I began this position of Regional Director! To all of you along my journeys: Sitka, AK; Denver, CO; Missoula, MT; Las Vegas, NV; Santa Fe, NM; and Phoenix, AZ; and to those of you I met at our annual conferences in Oakland, CA (2016); San Antonio, TX; (2017) and Washington D.C. (2018), I wish you success, inspiration, and happiness as you work with teachers, students, and other professionals. My special thanks go out to my Regional Team Leaders for welcoming me to their states, hanging out online, and providing feedback that enabled me to inform all: Samantha Wuttig (Alaska), Kim Rimbey (Arizona), Annette Zook (Colorado), Cory Bennett (Idaho), Lisa Scott (Montana), Denise Trakas (Nevada), Shannon Ference (Utah), and Kate Kniss (Wyoming).
My journey continues. After three years as your NCSM W1 Regional Director, I will now be the Associate Editor of the NCSM Newsletter. As the Editor of the Colorado Mathematics Teacher, I continue to wonder if anyone reads it, or if lack of time and constant emails that need timely responses prevent members from this kind of professional reading. Please let me know your thoughts, AND what kind of articles you are most interested in reading from NCSM. Send these to
HELP NCSM GROW
When I travelled around my nine-state region, I reached out to others with information about NCSM. You can, too! Reach out to your colleagues and invite them to join NCSM. Direct them to our website and its many resources. Encourage them to sign up for eNews to find out what we are about. Help us build our mathematics education leadership community.
WELCOME TO DENISE TRAKAS, YOUR NEXT REGIONAL DIRECTOR!
Denise has been our NCSM Regional Team Leader from Nevada for at least the past 6 years. You can count on her support for your events and look forward to reading her quarterly website reports and newsletter articles.